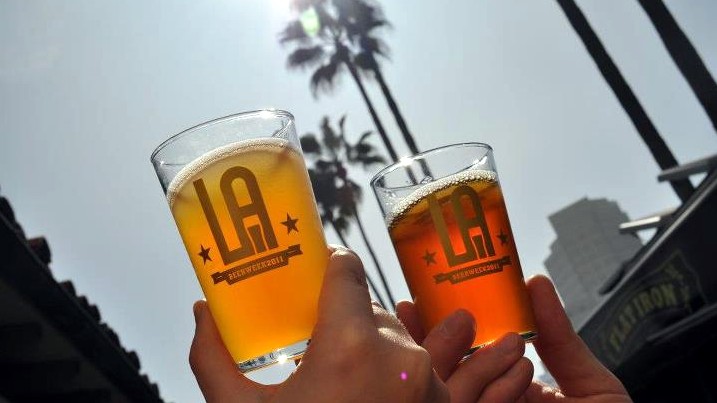 A beer can be both smooth and spicy. It can be both refreshing but leaving the sipper wanting a bit more. And, yep, it can be flavored but not overpowering.
Likewise, LA Beer Week, the massive, everyone-under-one-tent, 11-day brew celebration set to kick off on Thursday, Sept. 20, is simultaneously two things as well. It is the big Union Station party that has gotten the share of hops-related headlines over the last half decade; that's happening this year on Sunday, Sept. 30 to round out the ten-day celebration.
But it is also the many smaller tastings and gatherings happening at bars and taverns and restaurants throughout Los Angeles and Orange County. Events like the Beachwood Farmhouse Ale Festival at Beachwood BBQ and the Beer U: How to Cellar Beer at Lucky Baldwin's and Barrel-Aged Beer and Food Pairiings at City Taverns.
It's true that the Union Station blow-out will boast the most brew lovers, but each cozier event will welcome a group interested in a specialized microbrew topic. Some people like the bigger affair, some like to hobnob with a few likeminded beer drinkers.
So, what's your pleasure? Big or small? LA Beer Week, which is indeed one of the larger beer festivals anywhere, offers both choices. Picture one of those yard-tall beers -- that's Union Station -- surrounded by dozens of tiny taster cups. Any way you pour it, it is a satisfying picture in these hot days.
Follow NBCLA for the latest LA news, events and entertainment: iPhone/iPad App | Facebook; | Twitter; | Google+; | Instagram; | RSS; | Text Alerts | Email Alerts
Copyright FREEL - NBC Local Media