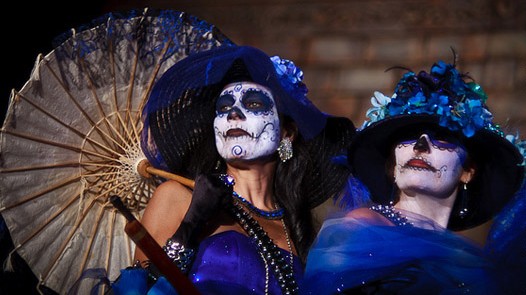 While a lot of our relationship to Halloween is based on 1) how we feel about being scared 2) how we feel about candy 3) how we feel about wearing wacky costumes or 4) some combination of the above, there is, of course, a pronounced element of death, and how we deal with it, to the holiday.
It sounds rather blunt, to put it that way, but it is the flip side to the cute ghost get-ups and gravestone cupcakes. And one of the most traditional and festive ways to honor that element is to observe Dia de los Muertos, and, with it, those who have already crossed the veil.
There are multiple celebrations around Southern California, many private, some grand, but one that has grown over the last dozen-plus-one years is LA Day of the Dead, which takes place on Saturday, Oct. 27. The setting is beautiful -- Hollywood Forever cemetery -- and its heart is full of art. Aztec dances and altars and tunes fill up the long afternoon and evening; this year Ozomatli is set to play.
And those altars? There will be over a hundred.
And those dances? Performers will be in full costume. As should revelers; attendees are very much encouraged to come in their skeleton-best. If you've never done calacas make-up, you'll find plenty of tutorials online. (Large, drawn-on teeth surrounding the mouth are key, we've found, as are whimsical touches like flowers and swirls.)
Cost is ten dollars, but kids under age 8 get in free through 4 p.m., as do seniors. The merriment lasts through midnight. When would we go? Why sundown, of course; the tall palms of Hollywood Forever, set against a blue-pink-black sky, make the perfect canopy to a celebration that's very much about mystery and beauty.
Follow NBCLA for the latest LA news, events and entertainment: iPhone/iPad App | Facebook; | Twitter; | Google+; | Instagram; | RSS; | Text Alerts | Email Alerts
Copyright FREEL - NBC Local Media