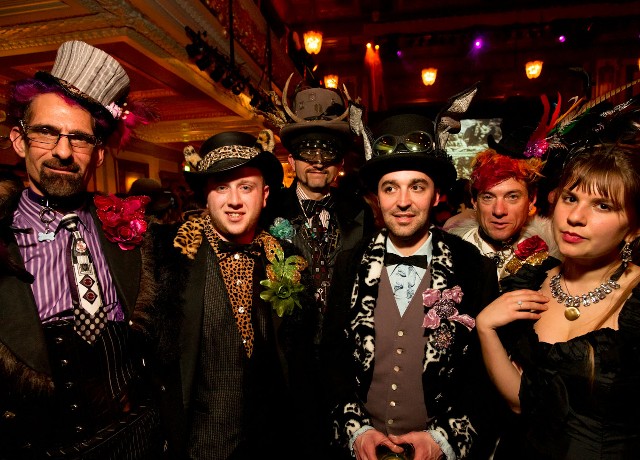 If you've ever had a friendly row about whether a man's neckerchief should be defined as an ascot or a cravat square, or if you've tangled over the proper curve of a bustle, or had a spat over spats, you're either 1) here from 1910 by mistake, somehow, so good luck with your long, complicated journey home or 2) going to the Edwardian Ball at the Music Box on Saturday, March 5.
Maybe both things apply to you (we don't doubt a time traveler from that era would love to peek in on a party paying homage to his or her own time). The Ball is a colorful, frippery-packed celebration of costumes and the social graces of a century or so ago, but with a definite steampunky, performance-modern edge.
Don't you hope someone goes as Arthur Conan Doyle?
The celebration invites corseted, ascot-ed revelers to "join a magical outdoors-indoors symphony of music, theatre, dance, art, storytelling, circus arts, fashion, technology, and, of course, the art & stories of Edward Gorey." Phew. That's a lot, but we say, find the quarter you're into and make friends.
Above all, get dressy. Whether you're indeed from 1910, or just wish you could pop by when your cubicle becomes a bit too cubicle-y, it matters not. Top-hat-it up, or find the biggest bustle in all of LA. Like. A bean-bag-sized bustle. We're sure they make those.
Copyright FREEL - NBC Local Media