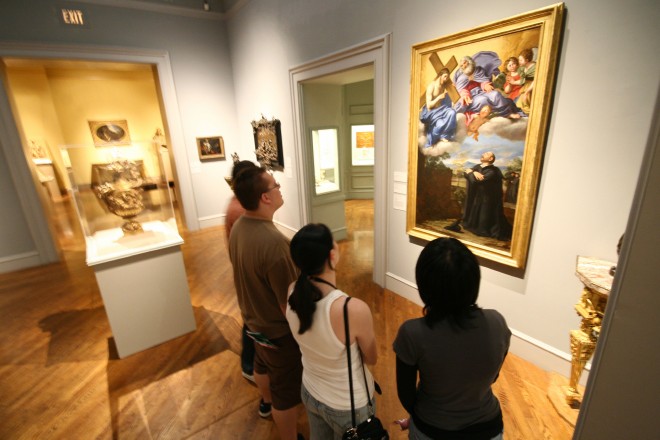 When you're a big institution a lot of the decisions you make tend to be set in stone.
We'll get to the "stone" part of that sentence in a moment. But the big institution we speak of is the Los Angeles County Museum of Art, which pretty much held to a certain daily schedule -- save its closed day, Wednesday -- for a good long time.
That is changing on Sunday, July 1. Now the museum will open an hour earlier each day -- "to better accommodate families and the many tourists who come to the museum" -- and close an hour earlier. So Monday, Tuesday, and Thursday are all 11 a.m. to 5 p.m.
The weekend hours are a bit longer at 10 a.m. to 7 p.m. And Friday? That'll be the latest night of all; LACMA'll lock the doors at 8 p.m. (doors open at the new weekday standard of 11 a.m.).
Oh, and foodies and beverage buffs? Ray's & Stark Bar'll keep later hours.
And right. We mentioned "stone" before. If you're wondering when Levitated Mass will open -- that's the giant boulder that'll sit over a cement slot on the North Lawn of the Resnick Pavilion -- that date is Sunday, June 24.
But sooner than that is the Muse Artwalk, a good way to visit with other art-loving smarties like yourself. Feel free to discuss the new hours amongst yourselves. The Artwalk is on Saturday, June 16.
Follow NBCLA for the latest LA news, events and entertainment: iPhone/iPad App | Facebook; | Twitter; | Google+; | Instagram; | RSS; | Text Alerts | Email Alerts
Copyright FREEL - NBC Local Media