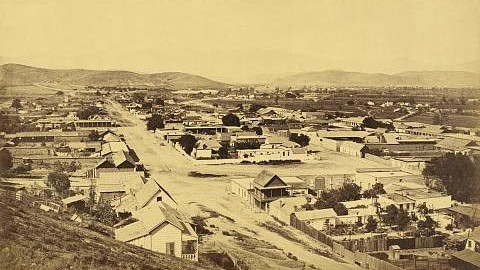 Don't think about it. Just answer. What's the photograph of LA that you see again and again and again?
We've personally probably seen that shot of downtown LA, all skyscrapers and gleam, with the snowy San Gabes in the background, oh. Five hundred times? Thereabouts. And we'd guess that other people might cite photos that include our skyscrapers or the Hollywood sign as those pictures they've seen the most.
Now picture a city that's highly rural. Picture wooden fences and large lots and dusty streets. That was our city, too, back around, oh, 1880.
If you feel that your brain's personal image bank needs a few new photos of our city, we recommend getting to the Central Library on Saturday, Dec. 10 at 2 p.m. for the free presentation on the work of Carleton E. Watkins. Mr. Watkins, a landscape photographer, took photos of LA around about 1880, making them some of the earliest known photographs of our city. They're stunners, too.
The pictures appear in a new book, "Carleton Watkins: The Complete Mammoth Photographs," which will be discussed during the event, which is presented by Photo Friends.
So. Can you see your house in any of the photos? Maybe not. But bet the vistas look the same. And the San Gabriel Mountains haven't changed much in a century-plus. Thank goodness for that.
Image: LA from Fort Moore Hill. Library of Congress, Washington, D. C.
Copyright FREEL - NBC Local Media