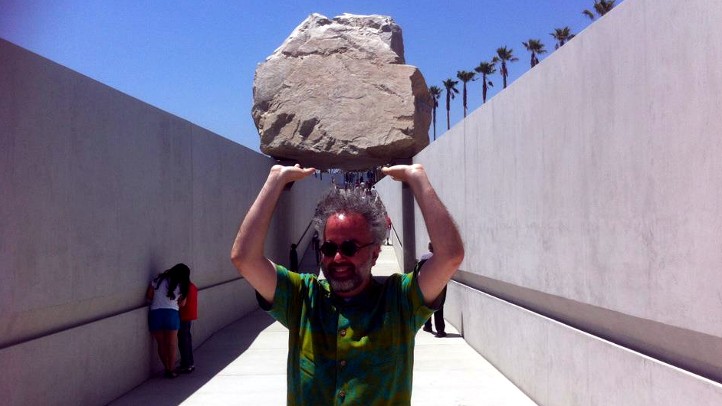 If you've visited The Tower of Pisa, we'll take three guesses as to the photo pose you and your family favored. Wait, we only need one guess: You stood way in front of the landmark, turned sideways, and placed your hands up, as if you were keeping the tower from falling.
Are we right? Ding ding ding?
And how about the Eiffel Tower? Have you "pinched" it between your index finger and thumb? Probably.
Now our city's newest large-scale artwork already has inspired its own version of the "holding" photo. If you've been to Levitated Mass at the Los Angeles County Museum of Art, you've likely seen people with hands over their heads as if they, themselves, are keeping the 340-ton boulder at the top of the artwork aloft.
Call it LA's soon-to-be much-repeated photo. And it will be repeated by lots of people; Levitated Mass, which debuted on Sunday, June 24 is free to see.
Yes, Michael Heizer's epic cement-meets-rock piece has been open for exactly one week. But spend twenty minutes at the boulder-topped piece, which is located just north of the museum's Resnick Pavilion, and you're bound to see a half dozen visitors posing with hands over their heads.
Don't sigh and don't chuckle. You know you'll be doing this soon, too. And you, like us, have to like that people are interacting with the art in a humorous and lively way. Surely many artists wish for such instant connection.
Our final question is this: How long before we see this pose in a movie or on a postcard or t-shirt?
LA? Any guesses?
Follow NBCLA for the latest LA news, events and entertainment: iPhone/iPad App | Facebook; | Twitter; | Google+; | Instagram; | RSS; | Text Alerts | Email Alerts
Copyright FREEL - NBC Local Media