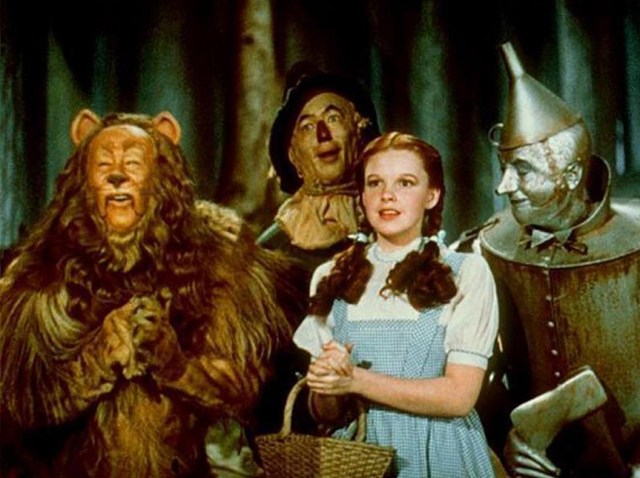 When the LA Conservancy recently asked its members "what musical should we show during the 2012 Last Remaining Seats?" you could almost hear "come out, come out, wherever you are" playing softly in the background.
Because? Honest? When "The Wizard of Oz" is in the running, for anything, all other contenders should politely stand aside (and those contenders were primo, we'll note; we ourselves are particularly sweet on "Singin' in the Rain"). But there's just no going head-to-head, or paw-to-paw, with Toto. Because Toto is king. Fact.
LA Conservancy announced that "The Wizard of Oz" did indeed win that particular poll and will screen this summer as part of the long-running vintage-movies-in-historic-theatres series. The date for Dorothy is June 30 -- and the venue is the Saban -- but there are a caboodle of other choice flicks unspooling over the once-a-week, several-week run.
"Robin Hood" from 1922 is on the schedule; so is "Paper Moon," which opens Last Remaining Seats on May 30 (it will play at the beautiful Los Angeles Theatre). "The Big Sleep" is on the roster; noir-tastic. And, surprise surprise, there's "Tootsie" at the Orpheum on June 6. It's kind of the wild card of the bunch given that it is not particularly vintage and not summoning a vintage era, a la "Paper Moon."
But wait. Can "Tootsie" be turning 30 this year? Do films made '82 now qualify as vintage? Oh good gravy. Probably, right?
As always, LA Conservancy members will have first crack at tickets. Those'll go on sale on March 28 and general public tickets hit the box office on April 11.
And, coincidentally, another downtown summer cinema series also announced its schedule today. Devil's Night Drive-In, the parking-lot-picnic people, posted their fun films (hi, once more, dear Jeff Lebowski).
Can this all mean summer isn't far off? This balmy shorts-and-tanks weather certainly says it is on its way.
Follow NBCLA for the latest LA news, events and entertainment: Twitter: @NBCLA // Facebook: NBCLA
Copyright FREEL - NBC Local Media