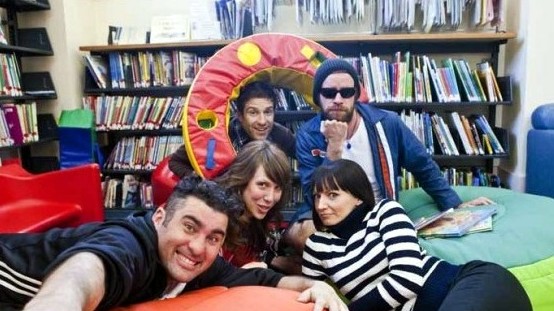 How do you take your comedy?
Some like a zippy little short film with a surprise ending. (The mayonnaise jar was actually the money jar?! What!) Some like their comics to be of the "dontcha hate when..." variety. (Brick wall optional.) And still others prefer a tumbly, tangly sketch group that can easily take the words "wrench" and "tiramisu" and run with 'em.
But if you like a little of dang well everything, we bet you like the LA Comedy Festival, which opened on Thursday, Nov. 10 and closes on Sunday, Nov. 20. ACME Theatre is the sassy seat of the action and the stars'll be plentiful.
Thomas Lennon and Ben Garant of "Reno 911!" are holding a panel on pitching. Yawn. Stretch. Oh, c'mon. We rib. We'd watch those guys watch a video that explains how to host a panel on pitching. They're funny. And there are a whole mess of movies ahead, too, like "A Hidden Agender" starring Elaine Hendrix. And comedy troupes? Yeah, they'll be comedying up the ACME. Count on outlandish scenarios and cameos by, like, penguins who skateboard. It's not funny when we type it, but man, on stage? Gales.
The schedule is so long and comedian-packed we recommend you purchase a collapsible comedy-schedule holder to keep things organized; we got ours online.
Tickets are reasonable, too; think $12ish, $15ish, that neck of the woods.
What, you want your laughs for free? Comedy is expensive to make. Remember that. Rule number one. Years and years of finishing schools, consultants, the purchasing of appropriate protective eyewear and headgear. Support these people in their endeavors, please.
Copyright FREEL - NBC Local Media