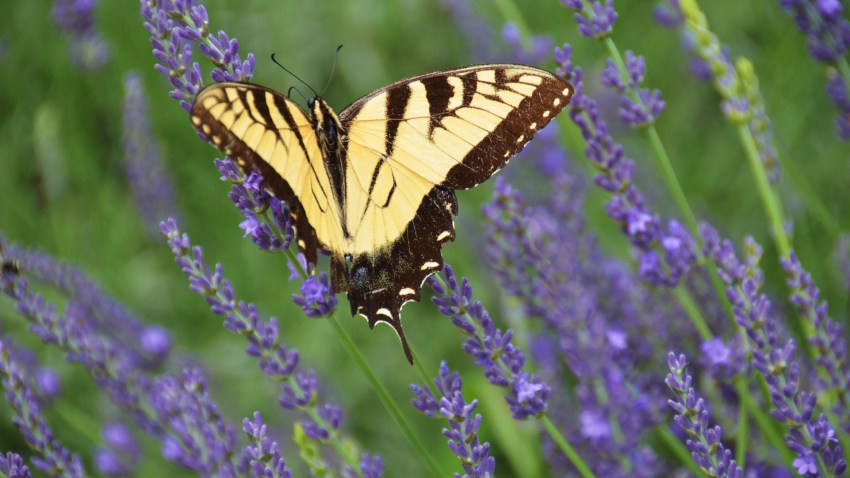 THAT UNSUBTLE SUPERSTAR: There are multiple herbs that lend depth or complexity or spiciness or kick to a dish or drink, but only a true few can dominate the flavor, if the cook in question wants some extra-herb-o-sity. There is no question, for example, that you're tasting lavender when you're tasting lavender. You'll never hand your lavender lemonade to a friend and ask them to sniff or sip it, the better to tell you what that extra something is within the beverage.
LAVENDER, in short, wears no masks or cloaks and it does not play coy, whether it is in lemonade, a savory dish, a soap, or a potpourri. Add to this fact that its purply color -- or "lavender" hue, if you prefer, since that is truly what it is -- makes it stand out even further from its herby brethren. Ojai Valley, which has a rather glorious knack for growing the stuff, loves upon one of its most famous crops each and every June, by naming the sixth month "Lavender Month" and throwing a party for it just ahead of Fourth of July. So while you can toodle over through the region whenever, with a stayover at the Lavender Inn or a stop at one of the ranches that grows lavender, you can also make for Libbey Park on Saturday, June 27 to get your full-on lavender fill.
OJAI VALLEY LAVENDER FESTIVAL: While many of California's best-loved fruits and vegetables get their own daylong parties, finding an herb that receives the same courtesy is rarer. But lavender is the loved-upon star here, and artisans who make everything aromatic, from lavender olive oils to lavender ice cream to the beauty products spiked with the sweet stuff, shall dot the grounds and sell their wares. But the day isn't only about buying; a number of workshops and cooking happenings and lavy-lovely to-dos are on the pretty docket, too. Will you wear a sprig in your hair? Or a lavender corsage upon your wrist? Well, is that even a question, really? You're going to, lavender lover, we're just counting on it.
Copyright FREEL - NBC Local Media