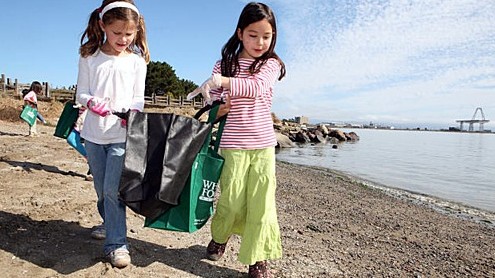 When NBC LA asked what part of the state best represented California, a number of people responded with the Pacific or the coastline.
No surprise there. And we agree, wholeheartedly. After all, what would a Golden State tourism commercial be without that epic, sweeping shot of some sandy Shangri La be? Well, it wouldn't be, because such a spot likely doesn't exist.
A California ad without the Pacific? It's like peanut butter sans its BFF jelly. Only much, much bigger and much, much older, of course.
We love our ocean, our rivers, our inlets, our marshes, and our bays. Caring for them daily is important, but, come once a year, we can join together and do a bit of housekeeping en masse (or perhaps beachkeeping is more like it). We're talking about California Coastal Clean-Up Day, and it is happening 2011 on Saturday, Sept. 17.
The numbers from previous years definitely belong in either the oh-so-staggering or that-is-ridiculous file. Over 1.2 million pounds of trash were collected from the Golden State's shorelines in 2010. And let's give it up for the women, men, and kids doing all that mega-collecting: 82,500 people showed up to lend a hand. And a bucket. And a shovel. Phew. Over 1.2 million pounds of trash. You've surely seen some beach junk in your forays and thought to yourself "why can't this beach be cleaner?" The solution is, of course, it can be, with your assistance.
Take a look at the county list and contact the coordinator for your area for more info on participating. And you needn't think just beach; inland water ways will get the love, too.
Copyright FREEL - NBC Local Media