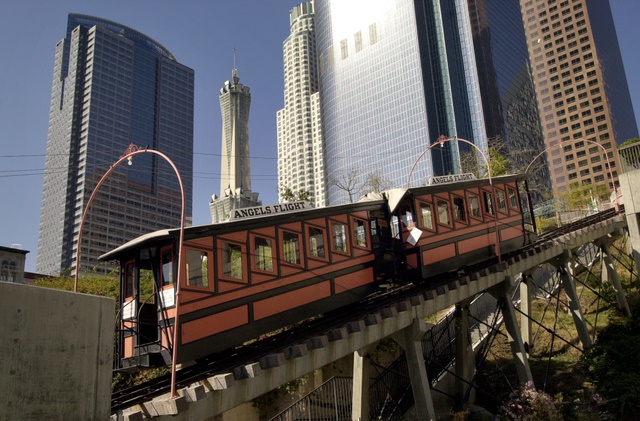 The fact that the birthday of Angels Flight, that pip of a funicular railroad that occupies a small spread of downtown and a larger space in our collective dreams, falls on New Year's Eve sends the steampunkiest part of our heart reeling.
You know exactly what we mean. There's something still futuristic and frankly hopeful about the 109-year-old railway and its much-snapshotted orange-red cars, cars that formerly chug-chugged bustle-wearers up Bunker Hill. And today, people in sandals and shorts.
Well, almost 109, as of this typing. Angels Flight turns 109 on Dec. 31, 2010, and to celebrate, the railway is offering penny rides. The words "penny rides" just sent an Edisonian bolt through the steampunkiest part of our heart; yours too, we hope.
By the by, Angels Flight cost a penny to ride when it first opened. Remember 1901? Great year. Think we bought our first spats.
A one-way Angels Flight ride is typically a quarter, so we hope you have plans where else you'll spend those hot 24 cents. Grand Central Market, Angels Flight's dearest, most delicious neighbor? Of course. Save us a saladito. Mmm.
We're seeing the penny rides popping up everywhere, from blogdowntown to Yelp, so you may have a wait in a line. But is there a better way to spend the early part of New Year's Eve than with other people who find funiculars fabulous?
No. There is not. Angels Flight! 109 years old. Still steaming, theoretically, straight into the future.
Copyright FREEL - NBC Local Media