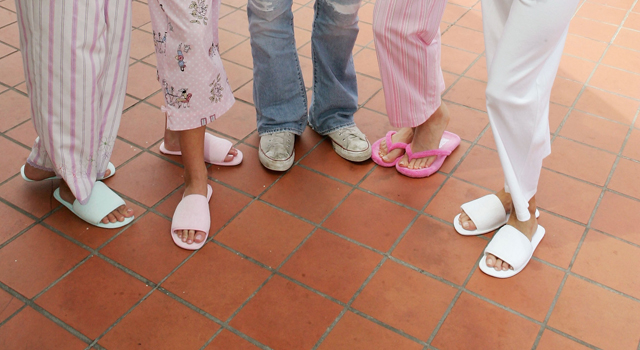 What aren't people doing in their pajamas nowadays?
Every school has its own "Show in Your PJs" day. Some offices'll take a zanier route, too, on the rare occasion, to celebrate a departing employee or fundraising effort. Then there are those brave souls who do their grocery shopping in what they woke up in. (We may or may not have been guilty of this from time to time; you, too?)
But running a 10K in your skivvies or flannels? Less common but quite the sight. And quite important, too, at least in the case of the Long Beach Pajama Run, which donates all the funds it raises to the Sleep Disorder Relief Foundation. What at first seemed quirky actually has a reason for being.
The run is on Saturday, June 30.
A few things to note: If you can't make a whole 10K, there are some shorter trots in the mix. There's also a food to-do and beer and wine garden to follow, meaning you can sit around sipping a brew in your favorite snuggly nightgown.
That's a good weekend day for sure.
And while pajamas are pictured above, the appropriate footwear is not. Best don your good ol' running shoes.
It's happening at Shoreline Marina Green. The one question that remains is this: Will you run in what you wake up in? Or will you have a fresh pair of PJs to climb into after you take off your sleep pajamas? Questions, questions.
Follow NBCLA for the latest LA news, events and entertainment: iPhone/iPad App | Facebook; | Twitter; | Google+; | Instagram; | RSS; | Text Alerts | Email Alerts
Copyright FREEL - NBC Local Media