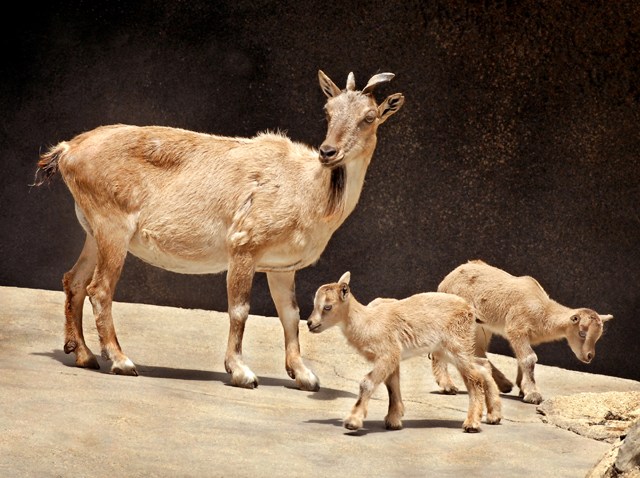 The Los Angeles Zoo would like you to meet its latest additions: two babirusas and two pair of Tadjik markhors.
The babirusas, a species of the pig family, were born on May 10.
Babirusa means "hog-deer" in Malay. Natives say the animals' tusks are like deer antlers.
"Measuring 6 to 8 inches at birth, the piglets are a solid gray or brown gray, not striped like most wild pigs when they're born. Hunting, habitat loss and commercial logging have posed a threat to this vulnerable species," according to the zoo.
"One of the piglets needed special care and is being hand reared in the nursery. The other is with its parents," according to the zoo.
Also in May, four Tadjik markhors were born. The first pair, a male and female, was born May 24. The second pair, also a male and female, was born on May 29
"Living at elevations of 1,900 to 12,000 feet, markhors are adept rock climbers from the start. Boasting stocky legs, robust forequarters and broad hooves that provide traction, these wild goats are built for the rocky terrain they inhabit," according to the zoo.
Visitors can see the boisterous markhors, an endangered species of wild goat native to Asia, alongside their parents in the markhor exhibit.
The Los Angeles Zoo and Botanical Gardens is located in Griffith Park at the junction of the 134 and 5 freeways. Admission is $13 for adults and $8 for children (ages 2 to 12). The Zoo is open from 10 a.m. to 5 p.m. daily. For information, call 323-644-4200 or visit lazoo.org.