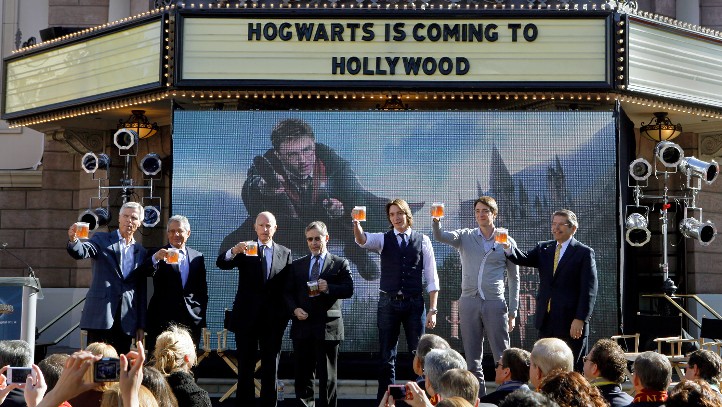 It isn't every day our governor raises a glass of Butterbeer.
But, then again, it isn't every day that a mega attraction, one sure to draw thousands of tourists to the Southern California area over many years, gets its official announcements.
It was one of the worst-kept, most-delighted-in secrets of recent days: Harry Potter, or the Wizarding World of Harry Potter attraction, rather, would alight at Universal Hollywood.
Fans know the Wizarding World of Harry Potter is currently Quidditching in Orlando.
Now Governor Jerry Brown, Universal President Ron Meyer, the Weasley Twins (!) James and Oliver Phelps, and a host of other luminaries have confirmed the fact, via a much-photographed Butterbeer toast on Tuesday, Dec. 6.
A few things of note. No less than J.K. Rowling weighed in on the news, saying "I am delighted that the Wizarding World of Harry Potter has been so popular with fans since the opening in Orlando last year and I am sure that the teams at Universal and Warner Bros. will bring their expertise and attention to detail to Hollywood to make this new experience equally as exciting."
It should also be noted that Hollywood didn't receive all of the limelight. expansions at the Orlando attraction were announced as well (details to come).
One specific detail before we fly away: Hogwarts, or rather "a majestic Hogwarts castle," is set to stand at the center of the "themed environment."
Who knew the 101 would lead straight to Hogwarts one day?
Follow NBCLA for the latest LA news, events and entertainment: Twitter: @NBCLA // Facebook: NBCLA
Copyright FREEL - NBC Local Media