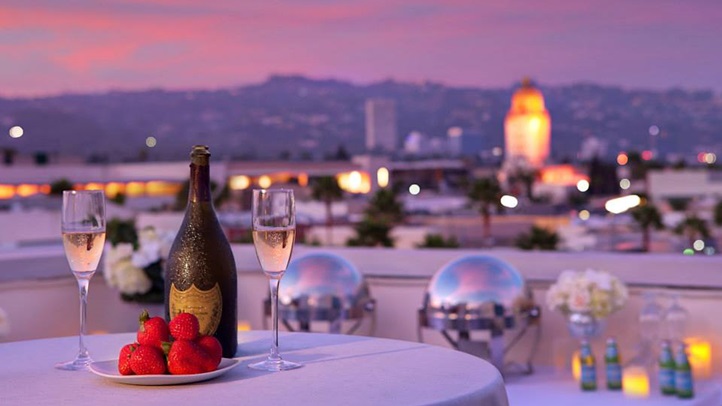 HELLO 1995: Even if you don't remember exactly what you were wearing in 1995 -- though velvet chokers, babydoll dresses, acid-wash jeans, and a "Friends" haircut were probably involved -- you can still enjoy La Vida 1995, in numerous ways. The middle of the 20th century's final decade is very much in fashion, both with the clothing (think Lilith Fair-style frocks) and in pop culture ("Full House" and "The X-Files" are returning with fresh episodes). And Luxe Rodeo Drive Hotel, the stay-over property plunk in the middle of the swankiest bit of Southern California's swankiest street, is also fondly pondering that fabled year nowadays.
FOR 1995... is when the hotel first opened its doors, and it is 1995 it shall return to, for a few special book-'em-soon days, when Luxe offers 1995-style prices to guests. For sure and absolutely, the dates'll have a fairly tight window on this deal -- May 22 through 25 are the dates you should circle on the calendar -- and the price is tres 1995-y indeed: $199.50 is what you'll pay for the first night you stay (note that there's a two-night minimum). You'll also nab 20% off for the rest of your stay, too. But whether you decide to go the full-on 1995 route, complete with that velveteen babydoll dress and those chunky lace-up boots we know is still somewhere deep in your closet, well... That's up to you. You'll be sauntering about one of the most famous of fashionable thoroughfares, and, yes, the '90s are back in style. You're good.
HOW TO BOOK IT: Call the hotel, Monday through Friday, and mention ROLLBACK. You can email reservations with the same code as well.
OTHER LUXE-Y HAPS: When the hotel is not celebrating milestone years, it's participating in the lively stuff going down around Rodeo. If Luxe's past involvement is a clue -- like when it offered a package in conjunction with that big Ferrari display in 2014, and the lighting of the Beverly Hills holiday chandeliers -- there are more specials to come. Nope, you don't have to be fully into la mode to make a reservation, though many shoppers do book. You can like cars and holidays and 1995, too. And, before, when we said to circle certain dates on your calendar, we weren't pulling your leg. Back in 1995, there were no smartphones, of course, so finding a pen and actually pressing it against paper was all the rage. If you're going to go full 1995 with your Luxe vacation, best be authentic in all the ways.
Copyright FREEL - NBC Local Media