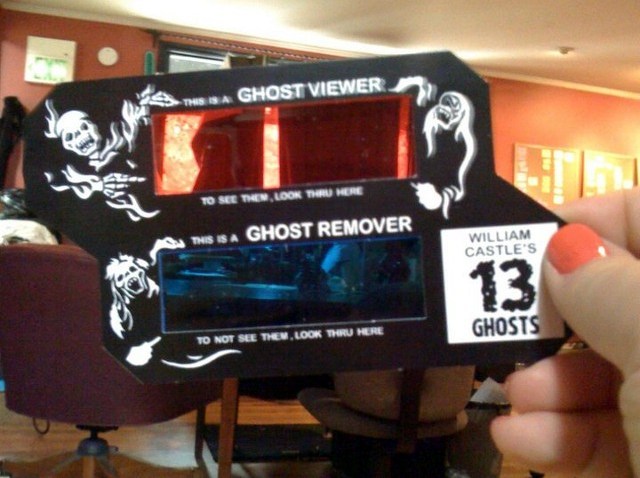 Granted, the glittery granddaddy of all movie-prop-loving movies just shimmied through town a couple of weeks back. But even if you didn't make the "Rocky Horror Picture Show" convention, there are still films out there that put props in the hands of the audience.
The famously faddish "Ghost Viewer" that accompanies the 1960 film "13 Ghosts" is one such prop. William Castle, that marvelous maverick of a director, unleashed the concept of Illusion-O -- you can read about it in this short Time piece -- which allowed people to look through various windows on a small viewer to "see" the phantoms on screen.
Genius. Brilliant. Kitschy. Castle-riffic to the extreme.
And lookie-here: Cinefamily is screening "13 Ghosts" on Saturday, Oct. 2 at Silent Movie. AND. And. Wait for it. They've put their cinemitts on several Ghost Viewers for the occasion.
Check out the photo above. The explanations under the windows fill us with giddy joy. We like what is printed below the blue window. "To Not See Them, Look Thru Here." Um. Yeah. If we're at "13 Ghosts," with a Ghost Viewer in front of our face, we're looking through the window that allows us to see the spooky stuff. Thanks, helpful explanation. We're not dissuaded.
One more word, Cinefamily. When can you screen a vintage movie in original Smell-o-Vision or Aroma-rama?
Copyright FREEL - NBC Local Media