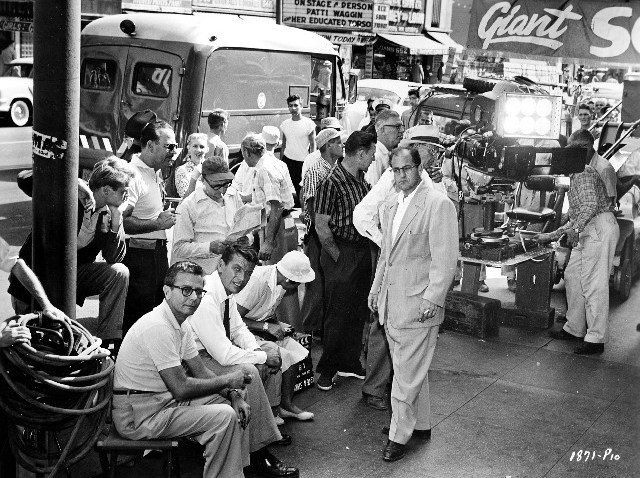 Let's call it pretty near fact: If you've stood on Main Street, or Spring Street, or Fifth, your shoes have likely been planted where a star once stood. Downtown was once teeming with top names, and it is again, courtesy of movies like "Spiderman" and "Inception," which is about the downtowniest of the recent spate of movies.
Authors Marc Wanamaker, Harry Medved, and Karie Bible recently released location-loving book -- it's called "Location Filming in Los Angeles" -- and they'll be signing it close to where a lot of the action they describe as taken place. But the Metropolis Books event is no mere author-reader-chat-fest, although those are lovely. Nope. The authors will be taking it to the streets following the signing, to actually show film fans where things got made.
Over this way? "Spiderman 3." Over there? "(500) Days of Summer." And tons of other films. The movie pictured above -- "Voice in the Mirror" from 1958 -- was shot around Main and Fifth. Mr. Medved pointed out the marquee in back: "Patti Waggin and Her Educated Torso."
Wow. Where was that filmed? (Note: Mr. Medved tells us that Ms. Waggin was a burlesque star. You can read more about Patti at her official web site.)
The date is Saturday, Feb. 5, and the Metropolis signing starts at 6 p.m. Nighttime tour to follow. It's free, and there will be downtowny clips screened at the bookstore before the tour. Hellooooo, "L.A. Confidential."
Location lovers, do not miss.
Copyright FREEL - NBC Local Media