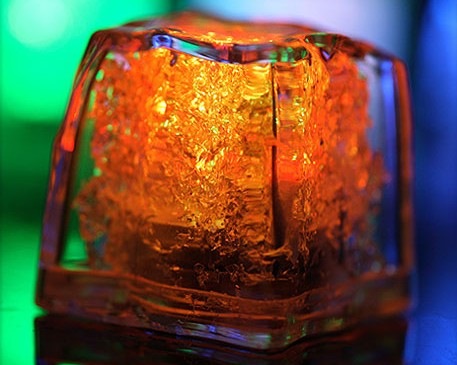 If ever there was a moment for glow-in-the-dark *anything* it's late October. Sure, neon necklaces and crazy headbands get play at concerts and all-nighters all year long, but come the witching season, we all seems to seek that certain shimmery, eerie luminescence.
Especially if there's a party in the works. That's when you go looking for glowing margarita glasses, glowing shot glasses, and -- yes -- the glowing ice cube. Glow-everything purveyor Glowsource has got all that plus fun gimcrackery like jelly rings, golf balls and the traditional light-up neckwear.
Oh, and stir sticks. And olive picks. This is an outlandish dinner party waiting to happen.
The ice cubes are available in quantities of 24 cubes (and on up); they're $2.40 per cube, but the price drops after 288 cubes. We hope you are throwing such a huge blowout you need that many. And we hope, at your bash, you, as the host, are brave enough to wearing these.