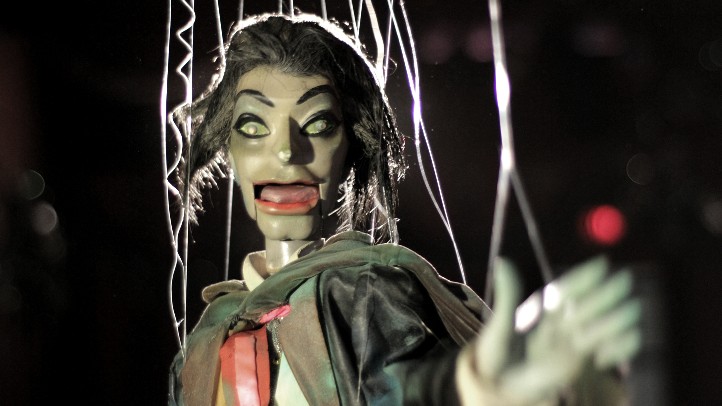 There are many things to adore about the Bob Baker Marionettes. It's one of the longest-running and best-known puppet shows, well, anywhere (yep, grand words, but publications from the New York Times and beyond have lovingly covered the master puppeteer). The theater has kept its downtown-close location for decades, and that the location is very freeway-overpass-adjacent is part of the charm. And we always feel like we've just eaten a giant piece of strawberry cake, after a show, even if we haven't.
But what we really like may be best illustrated by the fact that the theater's autumn show is set to open on Saturday, Oct. 6. It's called Bob Baker's Halloween Hoop-Dee-Do and it started in 1963.
Here's the thing about that start date; in our tech-strong age, grandparents can now share the movies and television shows that they loved with their grandchildren, courtesy of DVD and the internet. But a live experience? A stage show, that has changed little, and is still overseen by the same creator, a half century later? That is much rarer indeed.
So if you saw the Halloween Hoop-Dee-Do, with its 100+ witches and ghouls and skeleton puppets, when you were just a tot back in '63, and you now have a little grand-tot of your own, she can see what you saw, and all while sitting in the same theater, too.
There's something magical and movingly nostalgic about that, in our book.
The Halloween Hoop-Dee-Do will eerie things up at the Bob Baker Marionette Theater from Saturday, Oct. 6 through Saturday, Nov. 10.
Follow NBCLA for the latest LA news, events and entertainment: iPhone/iPad App | Facebook; | Twitter; | Google+; | Instagram; | RSS; | Text Alerts | Email Alerts
Copyright FREEL - NBC Local Media