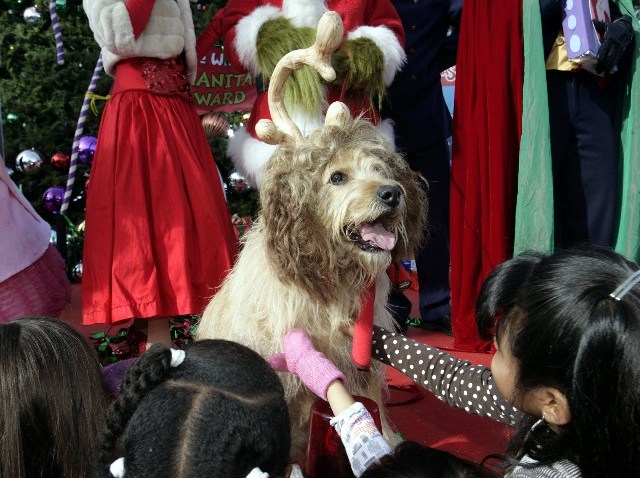 Like most anyone who has watched a television in the last 45 years, we have about 17 favorite "Dr. Seuss' How the Grinch Stole Christmas" moments.
Way, way up there, even more than when the Grinch slithers under the tree, is little Max's emotional expressions. Remember when the animated pup waves, with a smile, at Grinch? Heart going gloppy. Now a real Max -- or at least a very sweet dog filling his pawprints -- will be at Universal Hollywood during the 18-day run of "Grinchmas."
But that's not all the furry Seussian is up to. On Saturday, Dec. 11 and Sunday, Dec. 12, which happens to be opening weekend for "Grinchmas," Max will host a two-day adoption fair at the theme park. It's called "Max to the Rescue: Whoville's Have a Heart Adoption Fairs," and the Amanda Foundation and the LA Department of Animal Services are partners.
Will visitors that day find many a pup to potentially call their own? Oh yes. Will Max himself be there to oversee the happy proceedings? All the Whos know this to be true.
After all, the pup playing Max is himself a rescue. Heart going gloppier. Much.
Copyright FREEL - NBC Local Media