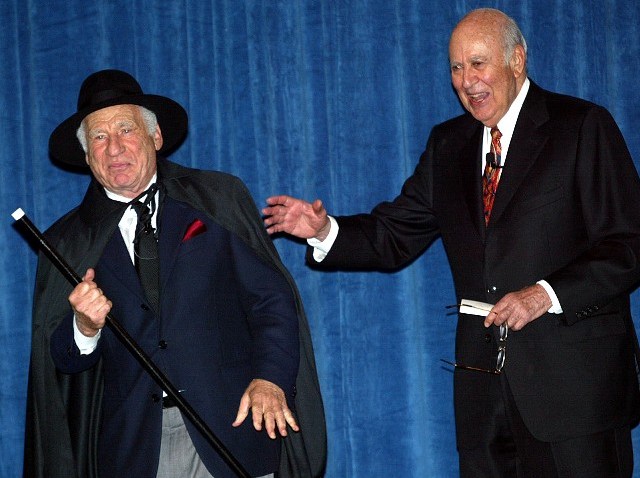 Tinseltown is rife with twosomes, pairs that set out to create a show or write a skit or make a pilot or do all of the above in any order.
But, yeah. Right. So many of those duos don't make it through the first cup of coffee. That's the nature of creative comings-togethers, which makes the comedy pairing of Mel Brooks and Carl Reiner so deeply unnatural. Unusual. Like, weird. Mr. Brooks and Mr. Reiner, we do no dishonor, HUGE fan, utter respect, but do you know how strange it is to still be on speaking terms after a half-century-plus? Especially in the funny-making business?
We love these guys. We don't know these guys but we bet we'd love them, and we really love their work -- you remember "The 2000 Year Old Man," a pop culture juggernaut that began nearly 50 years ago -- and we'll get a chance to love them more, because they're headed for The Egyptian on Friday, July 23.
American Cinematheque is screening vignettes from "Your Show of Shows" as well as "Enter Laughing"; Mr. Brooks and Mr. Reiner will chat after one and before the other.
Comedy people. TV people. PEOPLE people. This is something you want to go see. Legends. Still making wisecrackery. Get tickets ahead of time or be forced to go funnyless on Friday night. If you can't make it on July 23, they'll both be back, singly, at various times for various screenings during the following week. Get info.
If only we had time to sit down, right now, and watch "Young Frankenstein" and nine straight hours of "The Dick Van Dyke Show." If only we all had time. Goals.
Copyright FREEL - NBC Local Media