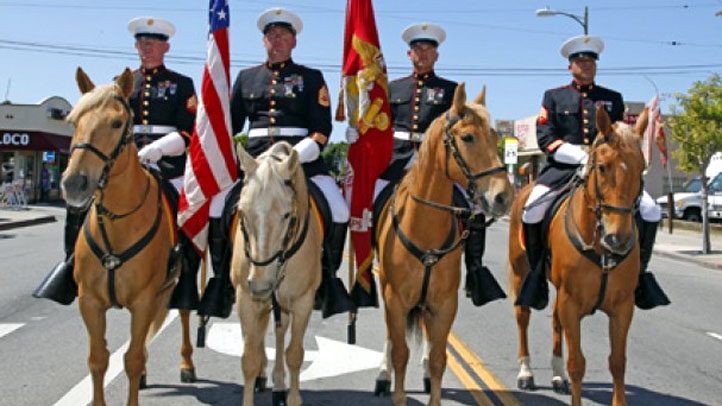 Looking for spots and destinations to pay tribute this Memorial Day? Here are some events happening in and around Los Angeles and Southern California.
Canoga Park Memorial Day Parade: This longstanding parade starts at Owensmouth and Sherman Way at 11 a.m. on Monday, May 28. Floats and horses are part of the event.
Memorial Day Flower Drop: A B-25 Mitchell drops over 3,000 carnations -- both red and white -- at the Palm Springs Air Museum. Attendees are welcome to take a flower home. For more information on the day's events, check out the full schedule. Monday, May 28
First Class Passport: Are you a veteran? Head for the Queen Mary in Long Beach now through Monday, May 28 to receive entry at the ship. The ocean liner, you'll likely recall, played a major part in WWII (it was dubbed the "Grey Ghost"). Friends and family members who accompany the veteran will receive a ticket discount.
USS Iowa: It won't be at the Port of Los Angeles by Memorial Day, but the WWII battleship will be headed for its permanent home there over Memorial Day Weekend. A museum is slated for the ship later this summer.
Los Angeles National Cemetery: For the full program at the Westwood-based cemetery, check updates at the web site or call 310-268-4675.
Follow NBCLA for the latest LA news, events and entertainment: iPhone/iPad App | Facebook; | Twitter; | Google+; | Instagram; | RSS; | Text Alerts | Email Alerts
Copyright FREEL - NBC Local Media