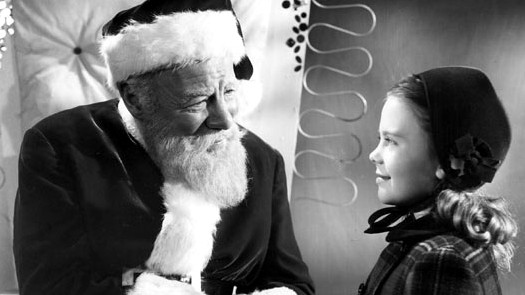 We know. We. KNOW.
We're putting up photos of Santa long before most people have gone digging for the Thanksgiving tablecloth. But here's the reason: LA Conservancy will screen "Miracle on 34th Street" at the Million Dollar Theatre on Sunday, Dec. 4.
The Conservancy's annual downtown holiday screening is popular and we don't need to hire a team of lab-coated scientists to figure out why. A classic is screened in the middle of the day, parents want to show their kids that classic, and everything goes down in a real swell vintage movie palace. Oh? And the cost is pretty reasonable, too, as dressy seasonal outings go.
You don't have to dress up for this one, but, c'mon. Nine-year-old Natalie Wood is all turned out in velvet and bows in the film. You can't put the tots in some plaid and shiny shoes for a day? It's the holidays. Make 'em wear the Peter Pan collars and breeches. Photos for the grandparents and all that.
The LA Conservancy kindly points out that a whole tinselly oodle of holiday stuff'll be happening near the Million Dollar on Dec. 4, like ice skating at Pershing Square. Make a day of it? Big holiday to-do? Sans the shopping part, for at least one December weekend day?
Oh yeah. The breeches and the Peter Pan collars and velvet dresses are coming out. We say breeches and velvet dresses for everyone, kids and adults alike.
Here's the trailer. This trailer was meta before meta was the thing.
Follow NBCLA for the latest LA news, events and entertainment: Twitter: @NBCLA // Facebook: NBCLA
Copyright FREEL - NBC Local Media