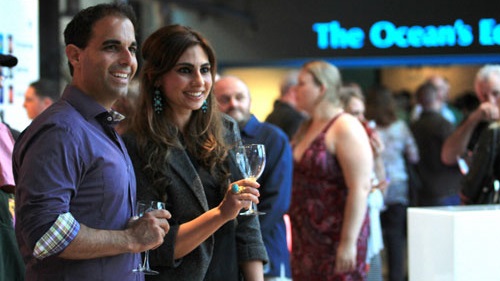 PONDERING WHAT OCEAN DENIZENS... do after the sun drops behind the horizon has long been the whimsical province of poets and animation writers and people who simply love the mysteries of the sea. We know that eels don't wear nightcaps and groupers don't require lullabies, but the notion of a vast world of moon-glinty darkness, full of waves and wonder, will never not intrigue we landlubbers. It is a fun chance, then, to be able to visit an aquarium after the time it traditionally closes, or, if you prefer, just about the hour that the eels are donning their nightcaps. Okay, that is pure fantasy, but Evenings by the Bay at Monterey Bay Aquarium is very much a reality, and one that fans welcome back each summer. Why the warm hello? Well, you get to visit the...
WORLD-FAMOUS INSTITUTION... during "extended summer hours" on Saturdays and Sundays. ("Extended summer hours"=an 8 o'clock closing time.) Live music is part of the party — the Monterey Acoustic Project visits on July 16, while Victory Lane is there on Aug. 13 — and the food is a savory centerpiece of the warm-weather run, too. Look for "cafe selections" on Sunday nights and themed eats on Saturdays, Vegetarian BBQ to Cooking with Corn, depending upon when you visit. And as for singing any lullabies to the residents, like those iconic sardines? You won't need to, but a wander by an exhibit or two, during an hour when the aquarium is typically closed, may make you feel as though you're calling upon an ocean-amazing world that's not often seen by the public. Watching the sunset, too, while standing near the Great Tide Pool, is forever a treat.
FINAL DATE... of the 2016 run? Sunday, Sept. 4.
Copyright FREEL - NBC Local Media