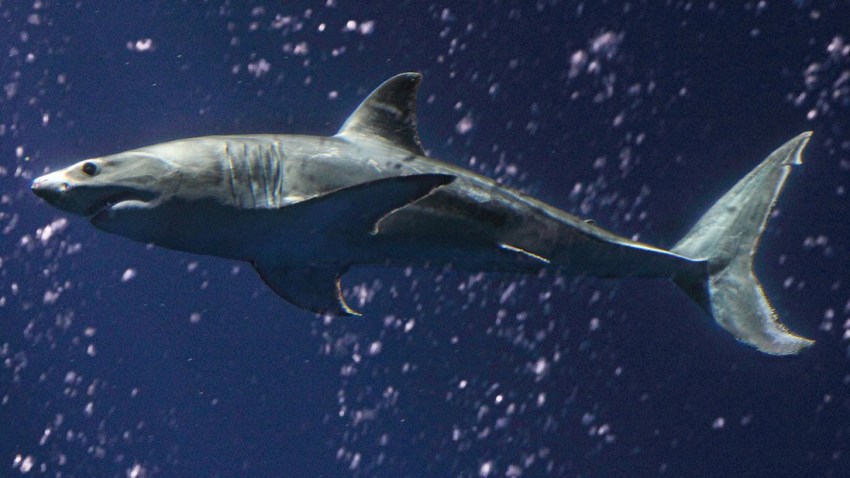 SHARKCITEMENT: Here's thrilling news for those keen on one of the planet's most famous and famously misunderstood denizens: Monterey Bay Aquarium has just put a young great white shark on exhibit. The aquarium is "the only institution in the world to exhibit a great white shark for more than 16 days, and has successfully returned to the wild each animal kept on exhibit." Which means that this young male will only be a temporary resident at the aquarium. (His stats, if you're wondering? Four feet long, 43.2 pounds. So he's a ways away from topping out at the 15- to 20-feet length of a mature shark.) He was collected off of Malibu on Aug. 18, and stayed in a massive ocean tank in the area for observation purposes.
AQUATIC AMBASSADOR: Julie Packard, Executive Director of the aquarium, called the first great white to go on exhibit "the most powerful emissary for ocean conservation in our history." That was a female shark, and the year was 2004. There've been four more great whites at the aquarium since, but none stay long; and this newest visitor may only stay a matter of days. Staff says if he's eating well and playing well with others, he'll stay longer. It will be a "day-to-day decision." So if you want to see him? Get to Monterey pronto. Or you can check out the live camera for sightings of the aquarium's newest celebrity. (You can also read about past great whites who've visited the aquarium, and their various lengths of stay, which run from days to months.)
OUR FAVORITE FACT... From this story is that the shark made his journey from Malibu to Monterey via a "3,200-gallon mobile life support transport vehicle." Which means if you zoomed up the 101 in recent days, jamming out to your tunes, you may have driven past a great white. We hope you were polite and courteous and let him merge into your lane or pass you. We should all be polite and courteous on our freeways, of course, but if a great white is in the truck next to you? Yeah. Be extra sweet.
Copyright FREEL - NBC Local Media