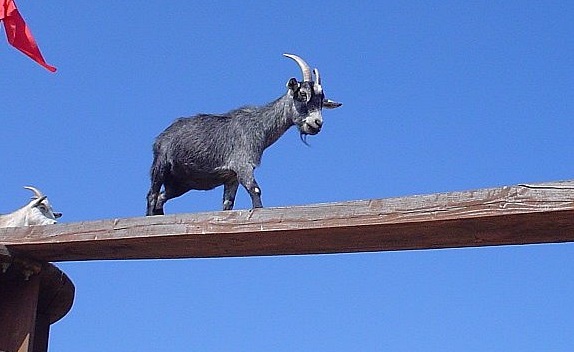 STRESS, GO AWAY: We read a story about unplugging, getting away, taking a quiet day just about every other day nowadays. Now whether a "quiet day" simply means an hour spent with the television off to most people is another matter, but we're of the semi-crotchety school that getting out of the house and into nature, or a nature-close setting, is key in the whole making-the-unplugging-feel-good plan. ("Semi-crotchety" is a complimentary term, of course.) And when October rolls around, that getting-to-nature plan takes on a distinctly autumnal feel, or should. It's really the one time of year where we can all stroll in a huge pumpkin patch or gnaw upon a buttery ear of roasted corn at will. Quibble with us not; we know these things can happen throughout the calendar year, but, let's be honest: October is chairman of the board of the whole pumpkin-corn industry, and there are no other true contenders.
SO... where to go in sunny Southern California for a true dose of the season? There are fine apple-y spots -- holler, Julian and Oak Glen -- and then there's the rather wonderful Underwood Family Farms. The rustic Moorpark spread throws a jolly (yes, jolly) fall harvest festival each year, and not just on weekends. It runs each day through the very end of October, meaning if you need a dose of gourd-y goodness on a Monday morning at 11:06, well, by gum, you're going to get it.
PLUS... hayrides, fall-type foods to snack upon, pumpking bowling, the corn cannon, scarecrow making, pig races, and a corn maze. That's a mere slice of what goes down, and, and, and! We didn't even get to the goats of Underwood, which are known for strutting their hoofy stuff on overhead planks to the wonder (and camera-clicking) of visitors below. It's all pretty dang sweet, and you may purchase a pumpkin or two for home. Plus? You'll leave feeling completely unplugged, if you're not too ruffled over missing your scarecrow target during your turn at the corn cannon. Prices vary depending on whether it is a weekday or weekend.
Copyright FREEL - NBC Local Media