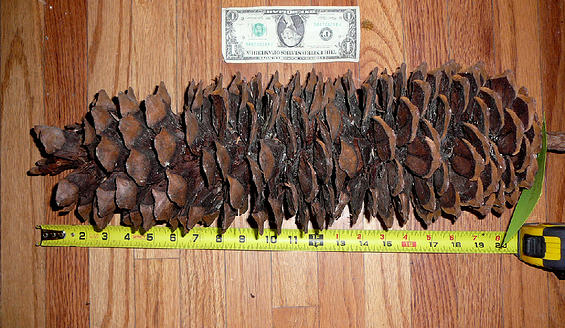 KID CLASSIC COLLECTIBLES: When you're a tot with a fascination with the outdoors, you can drag a lot of things home. Think of a variety of twigs in every shape, length, and barkiness, for example. (Is "barkiness" an important consideration when it comes to twigs? Yes.) What about flat rocks, or rocks are shaped like California, or rocks that reflect, or rocks the same color as your hair? Those make up a number of windowsill or box-under-the-bed collections, too. Shells? Any child who has ever built an ocean-close sand castle has a scalloped beauty or two in a drawer. And pinecones? If you went to the mountains at any time between the ages of 2 and 12, you nabbed a fallen-from-on-high cone or two.
KEEPSAKE: It's one of sweet souvenirs of time spent at a cabin, the pinecone, and they're apt to end up in bowls and baskets of the happy finder. Or, sometimes, a contest table come October. That's because the annual Arrowhead Pine Cone Festival has a pretty colossal showdown, with some good prizes (think cabin stays and store gift certificates). What do you need to do? Show with the biggest pine cone. This is no cinchy feat, and you probably can't rummage around in the basket on the dining room table. The record-topping Sugar Cone fell just a smidge short of two feet -- not two inches, but feet -- which reveals the coney competition is real.
REAL AND REALLY FUN: Saturday, Oct. 11 won't be all about cone-to-cone contesting, though, up 'round Blue Jay. Crafts, artisans, food, and the Pine Cone Olympics fill out the mountain-high high jinks. People wanting a dose of fall, whether it is by seeing some color around Lake Arrowhead or reveling in all things pine cone, make for the mountains come autumn weekends. We can imagine those with massive cone collections, perhaps started in their youths, may turn out in Blue Jay to see just what a cone that's nearly two feet long looks like. And what a drop that must have been, too. If a pine cone falls in the woods, is a kid or a crafter around to collect it? Quite often, yes.
Copyright FREEL - NBC Local Media