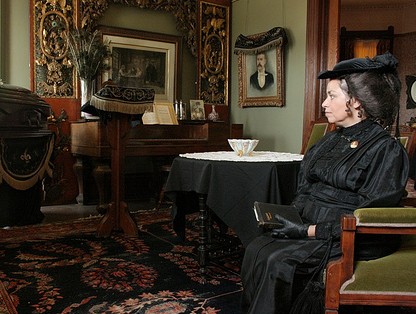 We can't live in Heritage Square. Oh, but we want to, in that wee octagonal house. There are eight sides, right? We'll just take one. We'll share, even.
But we can visit one of the most photographable spots in Los Angeles, and we do, especially right before Halloween. That's when that clutch of colorful Victorian buildings right off the 110 pulls back the curtain on vintage celebrations and the mourning rites of the Victorians.And the landmark-laden location is again marking the holiday on Saturday, October 24th and Sunday, October 25th.
We're exceedingly fond of this time-machine-y spot. We'd been zooming -- rather, we'd been driving at an appropriate speed -- up the Pasadena Freeway for years, only to be caught by the sight of several ornate buildings, seemingly dropped from the sky, to one side of the freeway.
You too? One day we had to nose around, and what we found charmed the bloomers off of us. Reenacters in costumes, old-fashioned games, music from eras past. And the Square's annual Halloween weekend festival piles charm on top of charm, as guides explain the popularity of spiritualism and mediums among the Victorians, and other fashions of the day.
Best wear your spats and bustle. Or anything with lace.
On Saturday night, Heritage Square is showing some scary flicks out on the great lawn. Find a cinema-loving sweetheart and prepare to be chilled through and through (in fact, Heritage Square says dress warmly).
Popcorn and drinks will be for sale. We always eat more popcorn during intense scenes. Has some brainy person done a highfalutin study on why this is?
The Mourning Tours are on October 24th and 25th from noon-4PM (Sunday is promised to be more activity-filled, fam-friendly of the two days). The Saturday night movies start at 7PM. Tickets to either the afternoon or movie night is $10 for adults.
Copyright FREEL - NBC Local Media