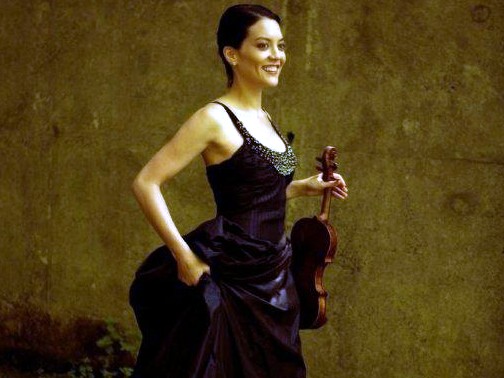 Whenever you despair that any romance and fairytalean magic has been wrung out of the fabric of the world, until there's not a drop of dazzle left, consider the story of acclaimed violinist Anne Akiko Meyers and her brand-spanking new purchase, The Molitor.
What is The Molitor, exactly? It is a Stradivarius violin recently sold to Ms. Meyers at auction. Now, you're thinking, okay, Stradivarius. Famous. Plus that oh-so-noble name, The Molitor. And you also learn the factoid that this exquisite instrument may have been in the collection of a certain Napoleon Bonaparte.
Hmm. You're thinking in the neighborhood of $3,600,000 or so, correct?
Correct. The not-inexpensive-but-downright-storied Molitor, and Ms. Meyers, are in town to make music, along with the Pasadena Symphony, on Saturday, Oct. 23.
Romance rising.
Isn't this what movies and novels are made of? The world hasn't been wrung out quite yet. And if you need an audio track for your butterfly-filled flight of fancy, click here.
Kudos the Hometown Pasadena for the tip. This is sure to be an exceedingly fine concert, and not many people get the opportunity to hear a Stradivarius in person. We should all take that chance when it presents itself.
(The violin pictured with Ms. Meyers above, note, is another Stradivarius called "Royal Spanish")
Copyright FREEL - NBC Local Media