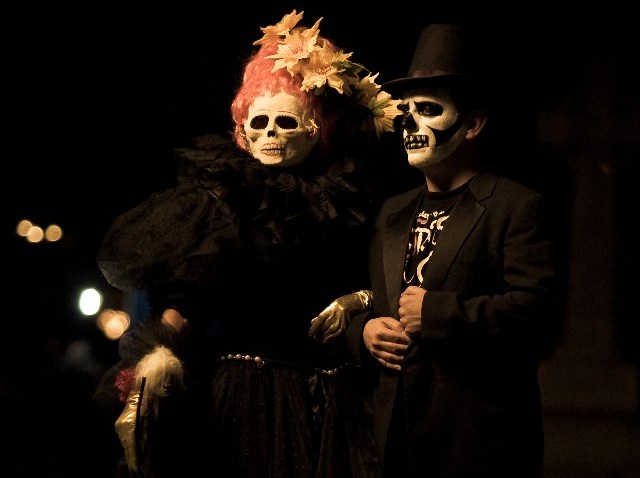 Some holidays are all about being together, but Dia de los Muertos has a private side that endures. And yet, there is a festive spirit to the celebration, joining people even as they reflect, quietly, in front of altars and tombstones and photos of loved ones now passed.
That togetherness reaches a particular poetic zenith in Los Angeles every year at Hollywood Forever. LA Day of the Dead organizes a big -- meaning ten-hour-big in 2010 -- celebration that involves a bevy of musical and dance performances; this year's date is Saturday, Oct. 30, just ahead of the traditional days of the dead.
Ruben Albarran of Café Tacuba will be singing; there will be a fire dance, and traditional observations from points around the globe. There will also be a cemetery-wide promenade recalling Mexican Independence.
There will also be elaborate altars, of course, and an impressive prize for the most impressive one: $3000.
Children are welcome; everyone who wants to remember and who wants to experience a gathering with a global and deep reach should join in as well. Attendees are encouraged to dress in their calaveras, seasonal best, to lend the dusk and late-night proceedings just the right esoteric mood. Mystery and a sense of merriment are key.
A general admission is $10, but kids under age 10 are admitted for free.
Copyright FREEL - NBC Local Media