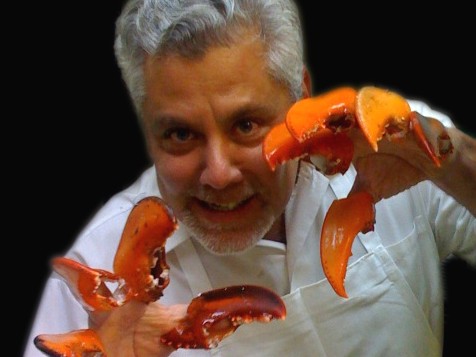 The organizers behind Pasadena's gumbo-riffic* festival have thrown just five main words into the big hot pot, and they're such tantalizing words that we'd be remiss if we didn't share 'em here. So hold out your bowl and we'll spoon 'em now: Gumbo, Shrimp, Music, Dancing, Libations.
That's the five-word headline for the Saturday, June 18 event, and, as headlines go, it is beautifully clear and in no way run-around-y. You know what you're going to get if you make for Pasadena's Boston Court Theatre parking lot at 4 p.m. on June 18, and we'll wager that at least three or four of those words intrigue you. If all five do? See you there.
(And we'll certainly see you there if your Father's Day plans haven't yet gelled. Does dad like gumbo and kicking up his dadly heels? We bet he just might.)
Chef Claud Beltran will not only be stewing up the rice-y, sausage-laden delights; crawfish are on the menu, as is Bananas Foster. Gotta have the Bananas Foster, yes? That's practically a rule, and a good rule as rules go. (Chef Beltran toques it up at Noir Food & Wine, when he's not dishing up gumbo at summer festivals, but then you likely know that.)
An advance ticket is $65; door'll be $75. Funds raised assist the Hathaway-Sycamores Child & Family Services.
* Yeah. We said gumbo-riffic.
Copyright FREEL - NBC Local Media