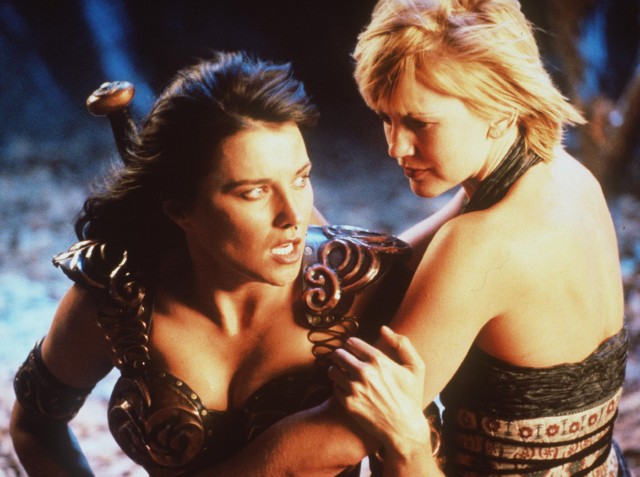 Lucy Lawless is just still that actress.
We mean, we know she wasn't really a warrior princess. That was just a character. But, if we were in a tight spot, and Lucy Lawless were there, we just have a feeling she might whip out some of those shiny rings and start throwin'.
"Xena: Warrior Princess" returns to deliver some well-placed justice (and a few blows) Friday, February 5th through Sunday, February 7th, but not to a television set near you. Rather, it is time for the annual Xena Convention, which is happening over three breast-plate-packed days at the LAX Marriott.
People loved this cult show -- obsessed over it -- and still do; like "Star Trek," "Xena" is a show that can still fill up a big fan convention years after going off the air (the con celebrates its 15th anniversary in 2010).
And who and what will fans find at the starry convention? Ms. Xena herself, the fabulous Lucy Lawless, plus Renee O'Connor (Gabrielle), and a host of actors from the series. A screening of the newer show with Ms. Lawless -- that would be "Spartacus: Blood and Sand" -- is part of the to-do.
Other events during the weekend include a wine and cheese party, a cabaret, a video competition, a "Xena"-based centerpiece contest, and, of course, costumes galore. Plus -- a yoga workshop with actress Hudson Leick.
We weren't joking about the breast plates. You still have yours in a back drawer somewhere, right? Better buff that baby up, pronto.
Copyright FREEL - NBC Local Media