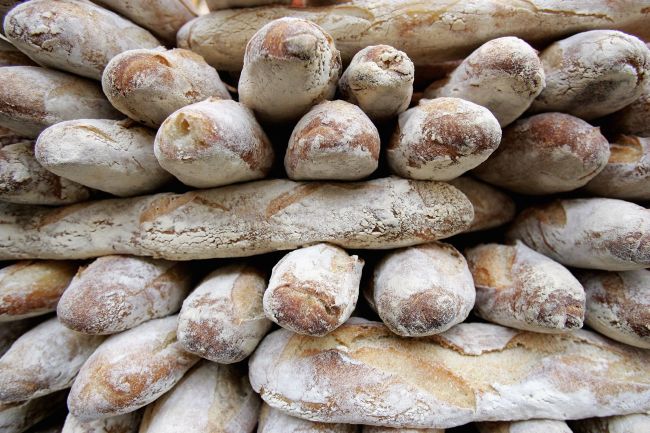 Thank Challah, it's National Homemade Bread Day. (YES. That means the mung bean and carrot juice diet starts tomorrow.) It's Monday, so you must fortify for the marathon work week ahead. Unhand that uninspired Wonder loaf you were totally going to make sub-par PB&J's with and get thee to a real bakery for some fresh-baked love-in-a-loaf.
Bread Bar
The name says it all. Golden fig, Parmesan lavash, walnut-raisin... hearts and bellies drunk on dough expand in blissful surrender.
L.A. Bread Bakery & Cafe
Pumpkin rolls, fluffy brioche, cheesy Asiago loaves. It's like Thanksgiving brunch every day.
La Brea Bakery
If there were a Big Brother of bread, La Brea would be it. Like the "marine layer," it's everywhere in LA. But forget the nugget-sticks in the sad afterthought bins at Ralphs. The original cafe is where the magic happens, and the basics are the best -- steamy, pillowy sourdough with a drizzle of olive oil? Nummy.
Le Pain Quotidien
The baguettes look like they were kneaded for hours and crusted just-so in an 18-century brick oven by a French grand-mere. Maybe it was really a stainless-steel GE, but so what?
Panera Bread
Okay, so the atmosphere is as inspired as IHOP without the pancakes, but that's because they understand carb-starved LA. We don't want to sit down where there are witnesses to our sins. Just swipe the debit card, hand over the blessed poppin-fresh and let us scurry to the car to scarf in anonymity.
Copyright FREEL - NBC Local Media