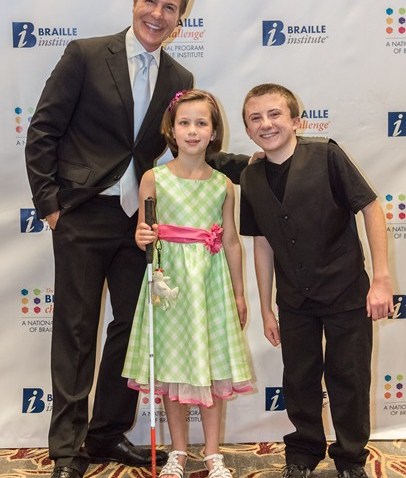 NBC4's Anchor and Reporter Robert Kovacik was Master of Ceremonies at this year's Braille Challenge held in Universal City on June 21.
For several years, NBC4 has supported this unique competition that brings students nationwide to compete in a variety of literacy categories. The NBC4 Braille Superstar Award for Excellence in Reading Comprehension with a $2500 scholarship was given to this year's winner – Brook Petro.
The 14th Annual National Braille Challenge competition features a diverse group of youth, chosen from among more than 1,000 blind students in the U.S. and Canada. The participants, ages 6 to 19, compete in challenging categories requiring them to transcribe, type and read braille.
Each category of The National Braille Challenge® is designed to test participants' braille skills in several areas—reading comprehension, braille spelling, chart and graph reading, proofreading and braille speed and accuracy—all of which blind students need to master in order to keep up with their sighted peers.
For more information, visit www.braillechallenge.org.