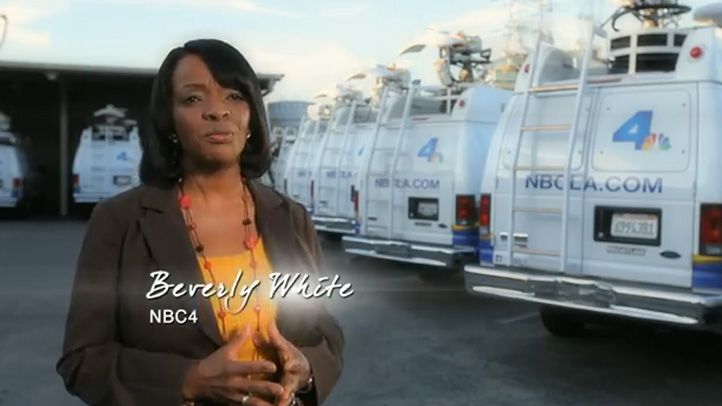 After two decades with NBC4 covering the Southland, Beverly White is among a select group of five Los Angeles journalists and an attorney that will be honored by the Society of Professional Journalists, the nation's largest journalism organization.
White was chosen for her career-long demonstration of "good news judgment, a strong sense of ethics and a passion for getting the story right," according to the organization's award announcement.
"Honorees are journalists who have achieved a record of accomplishments over the course of several years."
The local SPJ chapter, now in its 37th year of awarding journalists, has honored reporters from across media, including television, radio and newspapers large and small.
Specializing in television news, White joined NBC4 in 1992, from WTVJV, the local NBC affiliate in Miami.
She has covered a variety of stories including the destructive El Nino weather system, the recurrent Southern California wildfires, local flooding, mudslides and the Northridge earthquake. In 2004, she traveled to Florida and Alabama to cover a hurricane swarm.
A steady presence on the top-rated NBC4 News at 11 p.m. for more than a decade, White gives speeches and presentations to colleges, community and civic groups. She is a member of the National Association of Black Journalists and is a past present of the local affiliate chapter, the Black Journalists Association of Southern California.
White received a degree in broadcast journalism from the University of Texas at Austin. She has been a Scholar in Residence at Citrus College in Glendora and an adjunct professor of broadcast journalism at the University of Southern California.
The awards banquet will be held in March 2013, with the date and location to be announced.
Created in 2008, the Distinguished Work in New Media award is given to a reporter who "uses the new media's unique characteristics and capabilities while striving to uphold traditional journalism's highest standards of honesty, accuracy, responsibility and accountability."
SPJ-LA also awards the honor to a non-journalist who has helped promote First Amendment issues.
To read and watch Beverly White's reports, click here.