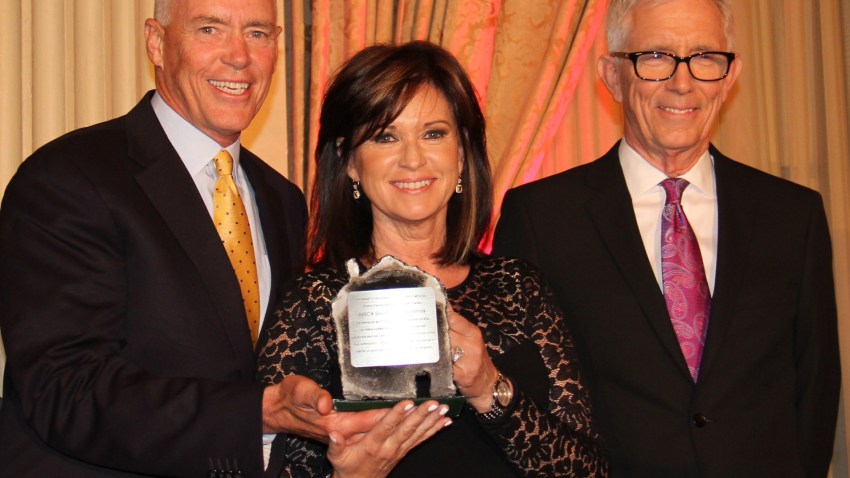 The nonprofit organization Shelter Partnership, which fights against homelessness throughout L.A. County, honored NBC4 Southern California at its annual dinner on June 3, 2014.
Accepting the award were the NBC4's weekday newscasts team - Co-Anchor Colleen Williams, Sports Anchor Fred Roggin, Weathercaster Fritz Coleman and the station's President and General Manager Steve Carlston. Fritz also emceed the event, as he has for the past 22 consecutive years.
Shelter Partnership has recognized individuals and companies that support the work of homeless agencies, including veterans, throughout L.A. County.
There are approximately 40,000 persons who are homeless each night in Los Angeles County. Shelter Partnership plays a critical role in the community by collaboratively solving homelessness through policy analysis, program and resource development, and advocacy.
Since the inception of Shelter Partnership's award-winning S. Mark Taper Foundation Shelter Resource Bank, $208 million worth of new, high-priority goods have been secured for free distribution through more than 540 agencies countywide.
NBC4's legacy in corporate giving throughout the Southland has supported causes for the homeless, youth, veterans and many others. In addition, NBC4 has signature initiatives that include the annual 21st Century Solutions grant challenge, which provides hundreds of thousands of dollars that make a meaningful impact.
The station also advocates for volunteerism with the "I am a Volunteer" program by connecting viewers with hundreds of causes.
Through our weekly on-air news segment "Life Connected," we celebrate diversity and feature individuals who come together in unique ways to enhance the quality of life for others. Thanks to the segment's success, NBC4 launched the inaugural Life Connected Award last year that will continue annually to salute the champions among us whose work is making a difference.
Please visit http://shelterpartnership.org to learn more.