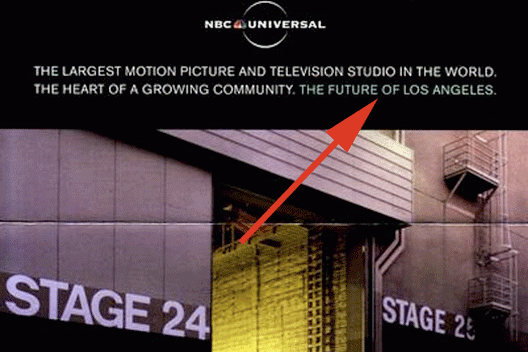 NBC Universal has vision, specifically a Vision Plan. As reported earlier, this plan is a 25-year blueprint for the studio that mostly involves the building of a massive mixed-use development with housing, offices, and updated production facilities (imagine more glam surroundings for The Tonight Show than the current Wienershnitzel in Burbank). While this all sounds dandy—especially since there's a convenient subway stop at Universal—many locals and politicians are freaking out about traffic and density. Opposition is mobilizing, but in a recent mailing to locals, NBC Universal tries to make its case.
According to NBC Uni, their Vision Plan:
-boosts the Los Angeles County economy by generating over 27,000 construction jobs, over 21,000 other jobs, $5.9 billion in economic activity from development of the project, and when it is completed, over 13,000 additional full-time and part-time jobs and $2 billion in additional annual economic activity
-responds to the changing needs of the production and entertainment industry, securing Universal Studios' position as the largest working studio in the world while protecting and keeping quality film and TV production jobs in Los Angeles and stopping them from going to other states or Canada; and
-generates more than $24 million in new tax revenues each year to the City and County of Los Angeles, more than doubling its current contribution and providing much needed funds to pay for vital City and County services such as police, firefighters, and traffic improvements including synchronizing traffic signals
And the letter that accompanies the mailer:
For more stories from Curbed LA, go to la.curbed.com.
Copyright CURBL