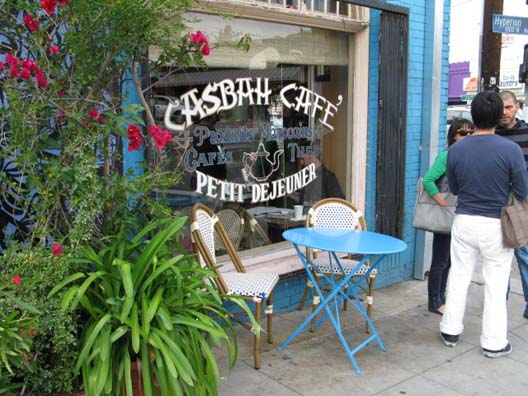 Casbah Cafe in its shrubbed glory
Looks like we have a tipster walking the Silver Lake/Sunset Junction beat for us, with the following profusion of neighborhood goings-on: The biggest and saddest news is that sustainable design/decor/lifestyle/gifts shop Reform School will no longer be in session: "There is a For Lease sign on the storefront for REFORM SCHOOL. They are closing this month." Just east of that, women's and men's boutique "PULL MY DAISY is selling their business. There is a 'Business For Sale' on their window." And Casbah Cafe has lost its greenery: "CASBAH CAFE had to remove their beautiful lavender bushes & sidewalk shrubbery because of a long campaign from the cranky neighborhood gadfly who lives behind their building (in an ugly badly maintained house)." [RackedWire]

For more stories from Racked LA, go to la.racked.com.
Copyright RACKL