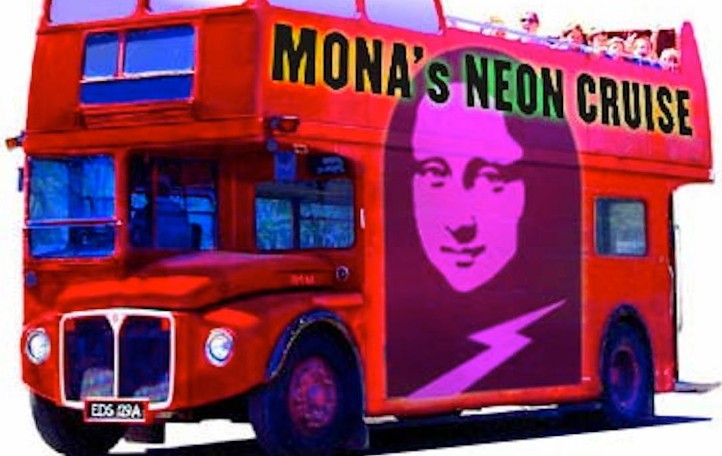 If you've ever bought a house or decided upon a new rental -- and that probably includes all of us, for the most part -- you've likely done one of the main things that all moving experts recommend you do.
Which is? Nope, not stock up on boxes and packing tape (although that's important). You've probably taken a drive or stroll around your new area, just to get a feel for what's beyond your apartment or new home. Find out where your grocery store is, and the gas station, and the hospital.
Maybe there's a bit of that spirit to the Museum of Neon Art's next Neon Cruise. If you know MONA's nighttime drive-abouts, you know they very often center around Chinatown, which is rather abuzz with bright hues come sundown.
But this time the museum is pointing the big, red, Mona-Lisa'd bus toward Glendale, which just happens to be its new home. Nope, the new Museum of Neon Art isn't open -- when it does debut in 2014 it will be located across from the Americana at Brand -- but that doesn't mean that the museum can't take a spin around its new town.
On the bill? Well, bet on a drive down Brand Boulevard. The Alex Theatre, with its glowing obelisk and old-school marquee, is sure to get some bus love. Other gems are in store, too.
Date is Saturday, April 28. Price? It is $55. A few other local orgs, like the Glendale Historical Society, are co-presenting, so this could be the brush-up you've been wanting on your area (if you call Glendale home).
Look. We all do it, when moving to a new town. Check out the place and learn what's what. Why shouldn't a museum? Even better that they're inviting us along for the ride.
Follow NBCLA for the latest LA news, events and entertainment: Twitter: @NBCLA // Facebook: NBCLA
Copyright FREEL - NBC Local Media