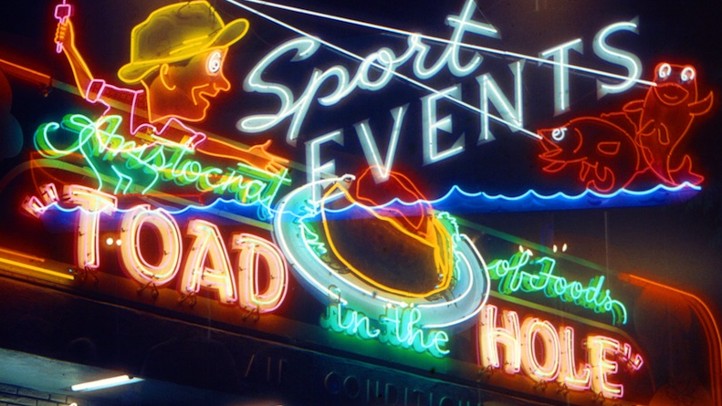 What would Los Angeles be without its neon?
Okay, okay, the obvious comeback is "a little darker at night." But we're talking about the spirit of neon, that certain vintage va-voom that a bright strip of motel and diner signs lends to a city. What would LA be without that shiny spirit?
We've all been through towns that have been stripped of their neon signage or never had it in the first place, yes? Then we can think of our own neon-laden metropolis, where signs still buzz bright deep into the night.
The Museum of Neon Art is much to thank for that fact. And because they help keep our lights on, we want to help them keep their lights on, too. We can do that by attending the museum's annual fundraiser, Evening Electric. It is set to buzz-buzz at the NHRA Motorsports Museum in Pomona on Saturday, June 30.
A silent art auction, bites and drinks, and a retro-loving slideshow from retro-lover Charles Phoenix are part of the night. A ticket is fifty bucks.
Oh, and we said this fundraiser will help keep MONA's lights on. That was just a neon-y figure of speech, in some ways; we're happy to report, as you might know, that though the downtown museum closed shop it is headed to brand-new digs in Glendale. So the tubes'll keep on flickering. But can we lend support, if we love that nighttime glow? Indeed we can.
And while we do love the glow, we do love that spacey sound of neon, too. Is there an app for that?
Follow NBCLA for the latest LA news, events and entertainment: iPhone/iPad App | Facebook; | Twitter; | Google+; | Instagram; | RSS; | Text Alerts | Email Alerts
Copyright FREEL - NBC Local Media