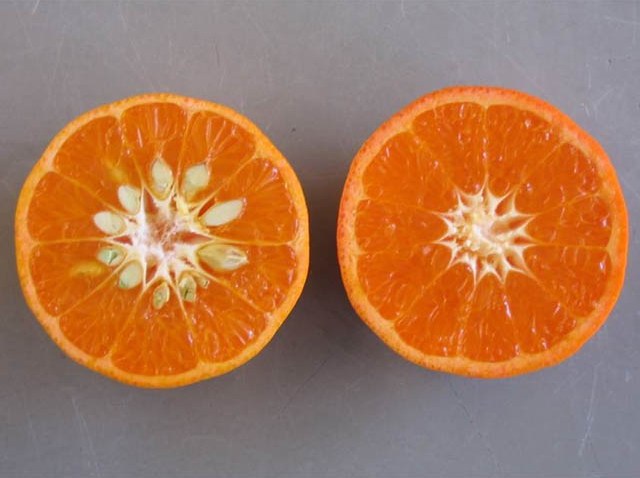 A hybrid orange developed by plant scientists at UC Riverside is being grown commercially, soon to appear in the produce aisles of local supermarkets, it was announced Friday.
The new fruit, "Tango," is a mutation of the W. Murcott mandarin, which originated in Morocco. According to the university, the Tango oranges bear all the characteristics of Murcotts -- a deep orange color, easy peel rind and tangy flavor.
The main difference: the Tangos are seedless.
"This is the most promising mandarin the university has ever produced," said Mikeal Roose, a genetics professor in the UCR Department of Botany & Plant Sciences.
Roose and fellow researchers used different levels of solar exposure to trigger the mutation that created the Tango. The process began in 2006 under the UC Citrus Clonal Protection Program, which focuses on cultivating citrus varieties for the benefit of California growers.
From 2006 to 2010, around 1.6 million Tango trees were sold to California fruit producers, according to UCR.
"This seedless mandarin -- superior in taste and feverishly being sought out by commercial citrus companies and growers -- is a wonderful example of UCR's world-class breeding program," said Craig Sheward, assistant vice chancellor for technology commercialization at UCR.
"We believe the success of Tango will bring ripple benefits to California citrus growers, and the people of California, who have supported the program," he said.
Because Tango is not a licensed name, it's not expected to be sold under that brand, but will likely be marketed instead as Cuties and Delites when the fruit is harvested later this month, according to the university.
Copyright CNS - City News Service