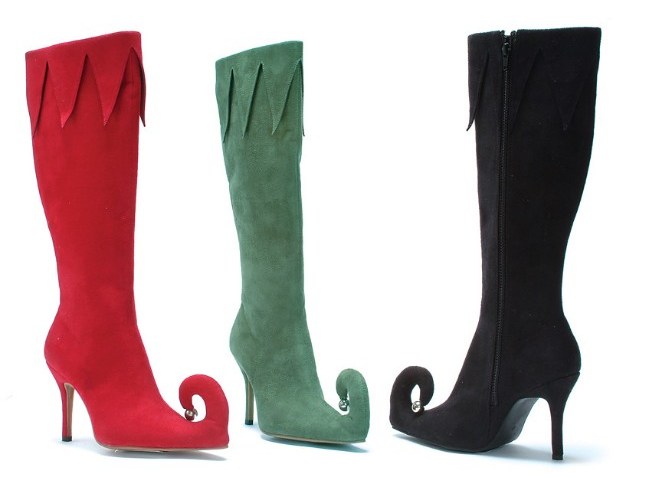 Of all the places around town that really do it up for the holidays, Trashy Lingerie, that famous, La Cienega-located negligee emporium, sends us into fits of delight. We love the creative, adults-only spins on classic looks, like the sexy Santa tanks, the candy-colored bras, the plaid-beribboned teddies, the stiletto-heeled elf boots. Stiletto-heeled elf boots? Indeed. Complete with tiny bell on the end of the curled toe, these sassy shoes fill us with a holiday joy that few things do. Walking in a winter wonderland never looked so lusty.
Called Joy Boots, in fact, the foxy footwear comes in Christmas-y hues -- red, green, and black -- and upper leg trim that suggests the kind of collar one might find on a North Pole denizen. But they don't wear sky-high heels around the North Pole -- the snow drifts are too deep, we're assuming -- and so these babies are made for strutting around in sunnier climes.
Keep in mind that the heel is over three inches -- you gotta know how to work those things, or at least be able to stand without wobbling -- and that the bell on the toe will announce your arrival. We're guessing everyone on the naughty list is asking for 'em.
Trashy Lingerie
402 N. La Cienega, Los Angeles
310-652-4543
Copyright FREEL - NBC Local Media