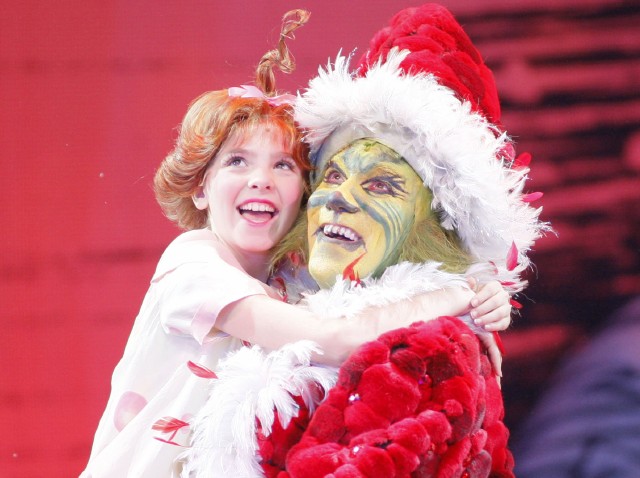 Boris Karloff. Thurl Ravenscroft. Theodore Geisel. Chuck Jones. And a whole mess of smiling, singing Whos. "How the Grinch Stole Christmas" is just... we're looking for the words, but instead, we think we'll sing a round of the "Have-Who-Doraaay" song. You know it.
The book by Dr. Seuss, and the animated 1966 special, and the movie (starring gossip gal Taylor Momsen as Cindy Lou Who), and the Universal attraction says one thing: that green, conniving, nefarious meanie is a man -- man? hmm -- we all adore. Forever. Just as long as we have we.
Now our Grinch-based obsession gets a new dimension: "Dr. Seuss' HOW THE GRINCH STOLE CHRISTMAS! The Musical" is turning its sleigh toward the Pantages this autumn. Big songs. Big mountains of snow. Lessons learned. And Max, too.
And while tickets go on sale, official-like, in just under three weeks -- September 13th, to be exact -- for the November 10th-January 3rd run, there's a special presale deal right now. It's special because it involves two things: buying tickets early, and buying them at a discount, if you nab tickets for shows between November 10th-25th. The discount is 35 percent. UnGrinchy.
Here's the code: TMPRE. Here's where you go to purchase.
Lil' tidbit: Thurl Ravenscroft, the singer behind "You're a Mean One, Mr. Grinch," was also the longtime voice of Tony the Tiger. You either knew this, or it is opening new worlds for you. It did for us.
Copyright FREEL - NBC Local Media