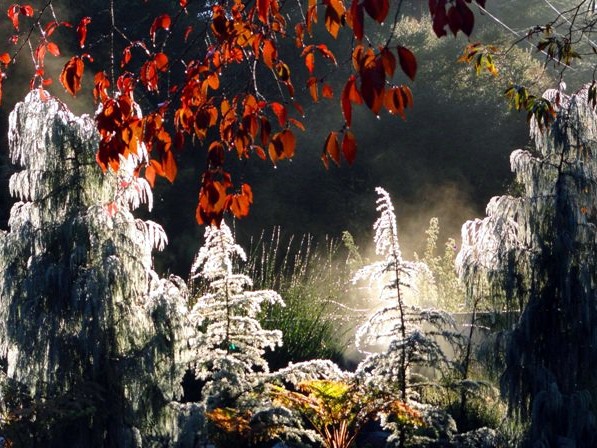 Those commercials that look like they're made back east somewhere but probably are made in Universal City or Encino, of mitten-wearing laughing people running around carrying like 11 tubes of wrapping paper while getting their shopping finished up?
Yeah. That was most definitely not Los Angeles over this past weekend. One, it was many more several higher degrees than what is normally depicted in that standard holiday ad. And two, who runs around carrying 11 tubes of wrapping paper? Two or three, maybe. That's just excessive.
But chillier days are straight ahead, over the coming weekend, which makes us want to share the photo above, which was snapped by Descanso Gardens horticulturist Mike Brown. It was taken last week in the gardens, and yes, that's frost. Real, Southern California frost. Not a special effect.
Did you think it was Narnia at first? Maybe a still sneaked from an upcoming film? It's kind of sparkly that way.
Until then, we'll see you at the beach. Don't forget your 11 tubes of wrapping paper. It is mid-December, after all.
Copyright FREEL - NBC Local Media