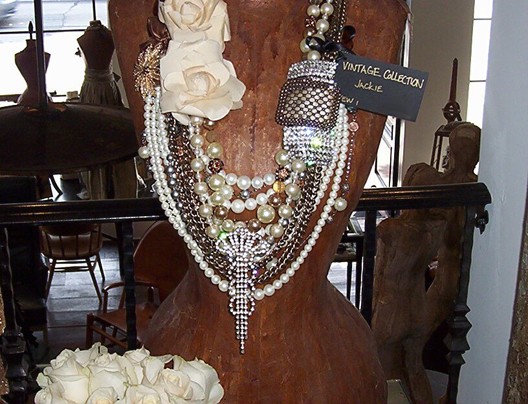 Grace Kelly
were reborn as a rock star, circa now. What do you think she'd wear? How would she accessorize? How would she decorate the Hollywood Hills pad she'd undoubtedly own?
Stop imagining, and get yourself over to just-opened Tobi Tobin in the Sunset Plaza area of West Hollywood. The store, a namesake and labor of love from the interior designer, offers Tobin's own line of clothing, bedding and towels, furnishing, candles—there's even chocolate!
Tobi Tobin aims to be a lifestyle brand similar to the golden, 80s-era Calvin Klein, Ralph Lauren, and Donna Karan brands. Meaning, it's more than just a few random pieces that all bear the same label: it's a complete, cohesive, "whole is greater than the sum of its parts" experience.
Leaving the lofty, philosophical take on it aside: This stuff rocks—elegantly and fancifully—but it rocks, just the same. (Ok, maybe it's a stretch to say that the towels rock,but they are pretty terrific.) The dresses? Are gorgeous. The jewelry is all handcrafted, and every single piece is an attention-grabbing statement maker. And the vintage furniture is almost like jewelry for your house!
It's hard to pick a standout piece. Still, we're going to say the necklaces—specifically, the dramatic black one pictured in the gallery; and the crocodile cuffs look like something Lenny Kravitz would wear. But basically, by the time we left, we wanted all of it.
These are luxury goods, and they are priced accordingly: necklaces and furniture in the thousands. Definitely investment pieces, but considering how lovely, unique, and well-made each item is, these are investments that will pay off for a long time. (But obviously not the chocolate, which will probably be consumed, immediately.)
Taken as a whole, the store itself is a glamorously gothic wonderland. With fall finally in the air and Halloween just a few days away, now's the perfect time to get over there and see it—and touch, taste, and smell it, too—for yourself. The store's at 8601 Sunset Blvd., (310) 289-0951

· Tobi Tobin [Official Site]
For more stories from Racked LA, go to la.racked.com.
Copyright RACKL