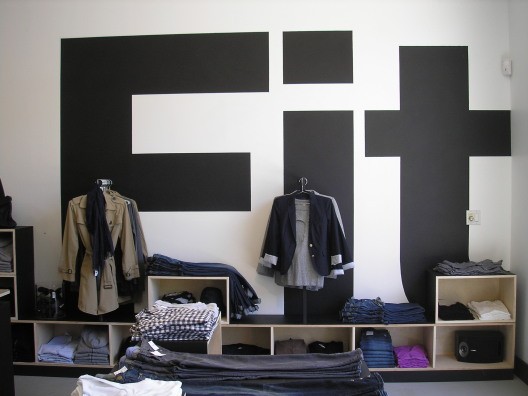 We have a feeling that Robertson's pricey jeans shops are feeling a little nervous now that Gap's 1969 denim pop-up is their neighbor. We stopped by yesterday to find the boutique buzzing with customers eager to try on the retailer's new and improved denim offerings, which promise perfect fits, premium fabrics and innovative washes starting at a mere $59.50. The first few days of business have been so successful, in fact, that staffers told us they've already had to arrange for re-shipments of certain popular styles— namely, a pair of skinny jeans with buttons up the ankle and white stovepipes with rips and tears in all the right places (both womens' styles).
Along with the 12 new men's and women's styles in the premiere 1969 denim collection— ranging from skinny-fit to bootcut, in a rainbow of hues and finishes—the boutique will also receive pieces from Gap's fall apparel collection shortly before they roll out storewide. Staffers tell us new items will be debuting consistently during the next two months on both the denim and apparel fronts, and we were also told a special size 00 will be debuting in the weeks to come—a company-wide exclusive that was spurred by local customer demand. The only downside? The shop's only going to be around until September 27, at which point you'll need to head to the mall (and a regular GAP store) to get in on the offerings.

For more stories from Racked LA, go to la.racked.com.
Copyright RACKL