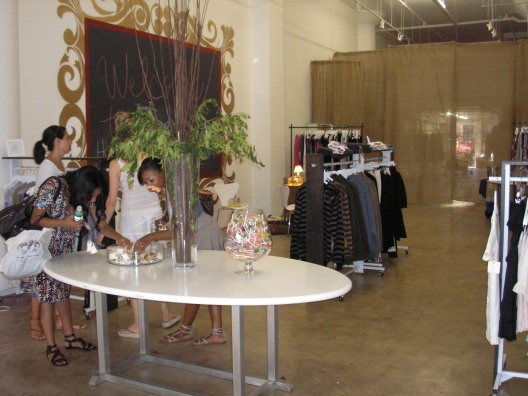 We took a tour of the shop with the Cooper Design Space's leasing director Mona Sangkala, who explained that they're trying to keep prices in The Store well below wholesale. For the first batch of merch, culled from showrooms at the Cooper Building and the surrounding neighborhood, this meant a rack of Rich and Skinny jeans for $45, embellished evening tops and dresses by Shari Bodell from $125, Park Vogel's jersey basics from $19, and embroidered tunics by Odd Molly from $39 (among other labels). Everything is laid out boutique-style, merchandised by general mood (e.g. all the gauzy, bohemian pieces together, work-appropriate suiting, etc), with only one sample on the rails and the rest stored in a curtained-off stock area.
Sangkala tells us that the shop will be getting new deliveries constantly, with a big surge set to come after the October market week—Corey Lynn Calter and Lotta Stensson are just a few that will be joining later this fall. And, as we mentioned before, the Cooper Design Space's showroom sample sales will still be going strong, giving you no excuse not to stop by next time you're in the neighborhood.
For more stories from Racked LA, go to la.racked.com.
Copyright RACKL