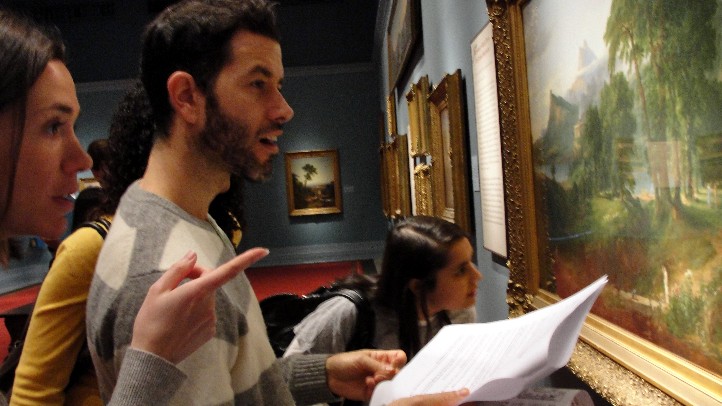 Anyone who gives a comical yawn when presented with the idea of spending a day at a museum needs their comical-yawn-giving license revoked.
Because? Museums? Not boring. Paintings tell the dramatic story of our history and myths. They provoke and, at times, infuriate. And, yep; they are often filled with people who, shall we say, could use a sweater. And some pants. And some underthings, too.
Nudes and art is a topic as old as nudity and art, for sure, but it gets a fresh look via the Watson Adventures Valentine's-flavored scavenger hunts. The company has created a couple of find-the-naked-people-in-these-paintings hunts at the Getty Center. Dates? Saturday, Feb. 11 and Sunday, Feb. 12.
Word from Watson is there are slots available (there's also a hunt on at LACMA but that is now sold out). There are afternoon hunts on both Saturday and Sunday, and an evening hunt on Saturday.
It's a "humorous, mind-tingling search for nudity" around the Getty, says the company, and we can't really gild that any statement any further. Clues will be given and teams will be set amuck. The price to participate is a couple of quarters shy of twenty five bucks, and you'll need to pay for Getty parking, too. It's $15.
We're not promising every nude you come across will be tasteful and playing a lute. It isn't all al fresco picnics and pillow-lounging; there will be some cock-an-eyebrow behaviors going down, which is why this scavenger hunt is rated PG-13.
But, hey, that's art, right? It isn't asking to be liked, merely looked at. Wait, could that be a tag line for some future art textbook? "Ya don't gotta like, just look" perhaps? Art world, you're welcome.
Follow NBCLA for the latest LA news, events and entertainment: Twitter: @NBCLA // Facebook: NBCLA
Copyright FREEL - NBC Local Media