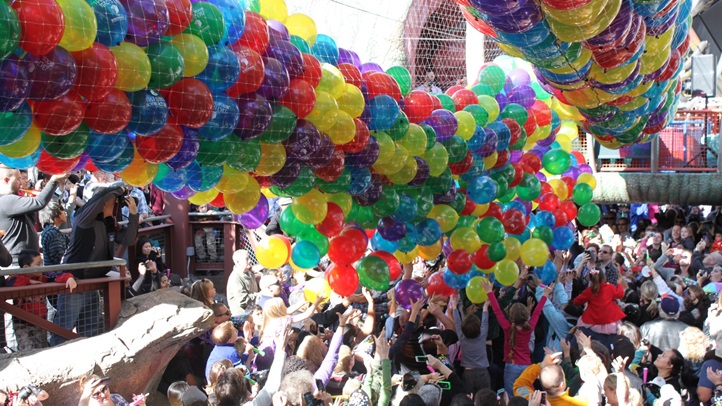 REJOICE, FESTIVE FAMILIES: One might think time is a rather static, set-in-stone kind of thing, but look to New Year's Eve trends to learn this is not exactly so. (Also? Time's not set in stone, literally, unless that stone is a sundial, and only then might that statement be mostly true.) There've been some recent changes to how one marks the grand midnight hour on Dec. 31, and the changes all involve not marking midnight at all, at least where you happen to be.
FOR EXAMPLE? Several West Coast parties are hosting a 9 p.m. countdown, to coincide with the Times Square, NYC-glittery balldrop. Total time-bending. But there's also the matter of Noon Year's Eve, which is definitely a kidly thing, but a concept more and more adults seem to be embracing. Why? Well, just because you're a grown-up doesn't mean you can make it to midnight. Not everyone is nocturnal, and there are those revelers that check out of various parties, with chagrin, at hours before the big countdown. But there is hope for the early-night families: The Discovery Science Center, which wants people to have a celebratory moment, including those who rarely make it to midnight. Yep, the center is hosting Noon Year's Eve, and it is happening over not one but two days.
SEE? TIME CAN BE PLAYED WITH: You can indeed celebrate Dec. 31 on Monday, Dec. 30, if you wish, and you don't even need a whizbang time machine to do so. The Santa Ana science-sweet institution'll host a noon and 2 p.m. balloon drop on both Monday, Dec. 30 and Tuesday, Dec. 31. A ginger ale toast is part of the revelry, and a stage show, too. Plus? Superhero costumes are encouraged, and, yep, that can be everyone in the whole tootin' family. The parents and kids who save cities together party together, right? Right. It's pretty cute and absolutely for the tots and their grown-ups. Still, though. What if hot Hollywood clubs started to follow suit? Is anyone up for Brunch Year's Eve? A 9 a.m. balloon drop, with mimosas, for the big people? Let the daytime welcoming of the new year continue to flower in all the interesting ways in the days to come.
Copyright FREEL - NBC Local Media