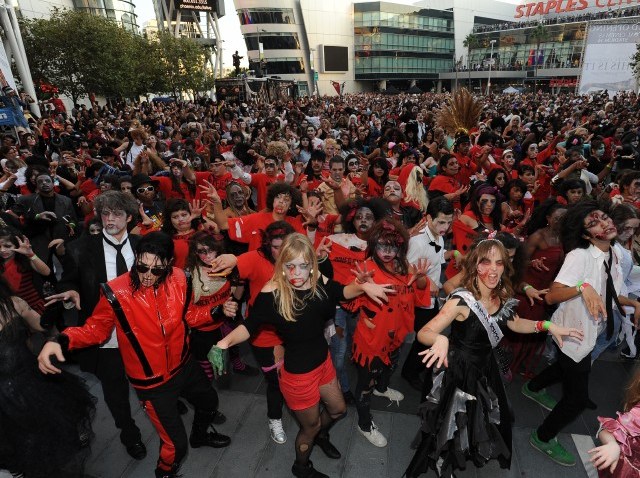 We know. The whole global "Thrill the World" event was days ago, and yet. And yet. When this photo landed in our inbox, we felt. Well. This is a snapshot that people should see, enjoy, savor, especially on All Hallow's Eve eve. How many zombies can you count? Snapped at Staples Center on Saturday, October 24th, 2009.
Free Halloween bashes: We're looking at a few more that have piqued our eerie interest. Old Town Pasadena is getting spooky on the 31st with trick-or-treating and other seasonal haps. Plus, Pasadena? It owns that late-October vibe all year long, and we want to hug it for it. All of it. Also, the Original Farmers Market at Third & Fairfax is doing it up on Halloween with a pup parade, a costume dance party, and all that Market-y mayhem. Again, hugging it, all of it.
Can't slip away without talking about... There's a "War of the Worlds" broadcast on Friday, October 30th (you've likely heard about the Zac Efron/Richard Linklater film coming out in a few weeks, all about Orson Welles). Get the info. And this isn't particularly Halloween-y but the cool factor cannot be denied: Chip Taylor, who wrote the song "Wild Thing," will be joined by his brother Jon Voight for some tune-making at McCabe's Guitar Shop on Friday, October 30th. Yes, the Jon Voight. Like we said, a cool factor that cannot be denied.
Copyright FREEL - NBC Local Media